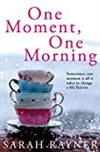 One Moment, One Morning
Registered by
améthyste

of
Rémelfing
,
Lorraine
France on 4/20/2019
2 journalers for this copy...
The Brighton to London line. The 07:44 train. Carriages packed with commuters. A woman applies her make-up. Another occupies her time observing the people around her. A husband and wife share an affectionate gesture. Further along, a woman flicks through a glossy magazine. Then, abruptly, everything changes: a man has a heart attack, and can't be resuscitated; the train is ...more
---
Dans la liste de souhaits de eponine ;)
Remis en main propre à notre mini-meetup :)
Merci beaucoup eponine pour cette belle journée :) !
J'ai été ravie de te revoir !
Bonne retour et bonne lecture !

La lecture met en ébullition, dissipe la sécheresse, active les facultés, déchrysalide l'intelligence et met en liberté l'imagination. Antoine Albalat

Chacune de nos lectures laisse une graine qui germe. Jules Renard


Bienvenue dans le monde du BookCrossing !

Merci d'avoir emporter ce livre ! Merci de laisser un commentaire (ou Journal Entry) ici pour m'indiquer qu'il a bien été trouvé.

Vous pouvez décider de rester anonyme ou nous rejoindre (c'est gratuit). Vous ne serez connu qu'au travers de votre pseudo (votre adresse mail n'est jamais dévoilée) et vous pourrez suivre le voyage du livre.

J'espère que vous l'apprécierez ! Quand vous aurez fini de le lire (si vous décidez de le lire) merci de laisser un nouveau commentaire pour me donner vos impressions et ce que vous aurez décidé d'en faire : le garder ou le relâcher !

---

Merci beaucoup, Amethyste, pour ce livre de ma liste de souhaits - et qui est arrive juste a temps pour notre meetup!

Un grand merci pour une belle journee passee avec toi!
---