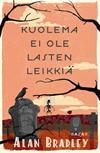 Kuolema ei ole lasten leikkiä
2 journalers for this copy...
Englanninkielinen alkuteos The Weed that Strings the Hangman's Bag (2010).
Suomentanut Laura Beck, Bazar 2015. 1. taskukirjapainos, 389 sivua.
Flavia de Luce -sarjan 2. osa.

Takakansiteksti:
"Vaarallisen älykäs Flavia de Luce asuu leski-isänsä ja kahden ärsyttävän siskonsa kanssa Bishop's Laceyn rauhaisassa kylässä, Englannin maaseudulla.
Kylän rauha järkkyy, kun nukketeatterin pakettiauto hajoaa Bishop's Laceyn hautausmaan nurkalle. Maankuulu marionettitaiteilija Rubert Porson päättää laittaa näytöksen pystyyn seurakuntatalolla -arvaamattomin seurauksin. Nokkelan Flavia de Lucen tarkoituksena ei ollut tutkia enää yhtään murhaa, mutta eipä nukkemestarinkaan ollut tarkoitus kuolla!
Huono-onnisen näytöksen jälkeen Flavia alkaa penkoa idyllisen kotikylänsä vaiettuja salaisuuksia. On nimittäin mahdollista, että Porsonin pakettiauto ei hajonnutkaan sattumalta juuri Bishop's Laceyssa.
Kuka veteleekään langoista ja tanssittaa poliisia marionettien lailla?"
- - -
Sain kirjan ystävältäni BC-tarkoituksiin. Koska minulla on jo yksi kappale tätä TBR-pinossa, tämä lähtee maailmalle.
---
Released 2 yrs ago (5/4/2019 UTC) at Tampere, Pirkanmaa / Birkaland Finland
CONTROLLED RELEASE NOTES:
Miittiin.
---
Nappasin mielenkiinnosta.
---
Olihan tää aika jännä kirja loppujen lopuksi. Alku oli karmaiseva mutta loppua kohden muuttui "kesymmäksi". Mielenkiintoinen tuttavuus ja luin kyllä hyvin mielelläni.
---