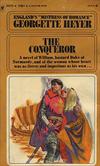 The Conqueror
Registered by

ResQgeek

of
Alexandria
,
Virginia
USA on 3/29/2019
2 journalers for this copy...

Journal Entry
1
by

ResQgeek

from
Alexandria
,
Virginia
USA on Friday, March 29, 2019
From a *huge* collection of paperbacks I recently received through the Next Door app, to register and release.
---

Journal Entry
2
by

ResQgeek

at
Gaithersburg City Hall Concert Pavilion and Grounds in Gaithersburg, Maryland USA on Sunday, May 12, 2019
Released 6 mos ago (5/18/2019 UTC) at Gaithersburg City Hall Concert Pavilion and Grounds in Gaithersburg, Maryland USA
WILD RELEASE NOTES:
This book will be available at the BookCrossing booth at the Gaithersburg Book Festival.
======================

DEAR FINDER,
Welcome to BookCrossing.com, where we are trying to making the whole world a library!


If you have not already done so, please make a journal entry so we know this book has found a new home. You don't need to join BookCrossing and you can remain completely anonymous. However, we encourage you to join so that you can follow this book's future travels. It's fun and free, and your personal information will never be shared or sold. If you decide to join, consider listing ResQgeek (or any of the other journalers) as referring you.


Take your time reading the book, and after you finish, please make another journal entry to record your thoughts about it. This book is now yours, and you can keep it if you choose, though we would love for you to share it. If you pass it along, please make a release note to let others know where you left it.


I hope you enjoy the book!

---
Picked this up at the Gaithersburg Book Festival. Fun to put some faces to Bookcrossing handles!
---
I'm enjoying the deep dive into dialect, the oaths are constant and varied. It makes me wonder if Georgette Heyer kept a list of era-appropriate exclamations and cycled through them, because they are omnipresent and while they take me out of the story by being silly and obvious, they are at least all different. I heard of Georgette Heyer when I ran out of Jane Austen and was told (I don't remember by whom) that Ms Heyer was the next best thing. That wasn't what I was in the mood for, but have cheerfully entertained myself with plenty of other contemporarily written romance novels set in the "Regency."

This is not a Regency Heyer, it's about William the Conqueror, hence the title. As verified by Wikipedia, before the whole "sail across the Channel and start the Norman occupation of England" he is historically known for publicly beating Matilda of Flanders when she turned down his marriage proposal. They later did marry, successfully by medieval royal standards (there were kids that succeeded him on the throne, no bastards, no obvious plots to assassinate each other.) It seems difficult to me to reconcile a woman who was about as powerful as they were allowed to be in that culture (born noble, widowed by a rich man so she had her own money) being into an asshole who is fine with not just violence, and public violence, and violence against women, but violence against her rich, noble self. No matter how much power she had, clearly he had more. In this book they write her as attracted to him but turned off by his low birth. Which back then wouldn't have just been a meaningless prejudice- they really did believe that birth made the man! I personally would have preferred an analysis of all the completely valid possibilities Matilda may not have wanted to marry again: less freedom, first marriage was unpleasant, didn't want to die in childbirth. Then even if she could get past that, her fears of marrying a bastard were completely realistic by the time's standards. Nobility and commoners were completely believed to be different and she would be not only debasing herself but risking having children less attractive and intelligent than her, and at risk for who knows what. This is not a culture that even paid lip service to fundamental equality of all people. Those were revolutionary ideas literally hundreds of years later. But Ms Heyer seems to have dedicated more time to researching oaths, not character's motivations.

So...Ms Heyer dedicates this book to a friend who works "in the historic manner dear to us both." For historical accuracy, it seems it was famous enough that Ms Heyer couldn't leave the beating out. I'm actually grateful that by the romance novel standards of the time (1960s) they couldn't make it sexy, cause yuck, really hard to sell a thousand year old public beating as consenting. Ms Heyer may have flirted with that at the end of her imagining of the beating, when William the Bastard kisses Matilda of Flanders and her eyelids flutter. I feel she veers back into "this was a shitty thing to do" territory by describing Matilda crying piteously that he hurt her to her sister after he takes off.

I do want to keep reading, I've quit books for less than the male hero beating the female hero, but it really did happen and I'm curious about reconciling the history to a love story. Quite likely I'll rage quit later, but I'm not at that point yet.
---
This book is a garbage fire. I'm full of awe for how disjointedly awful it is in so many ways. I kept pushing myself to finish it, first hoping it would get better, then when I was finally about 60% done and evidence was not good for improvement, just some stubborn bullheaded need to complete it. How is it boring and relentlessly, ludicrously boring on the same page? The ONLY, and I mean ONLY high quality, emotionally evocative writing in the whole book happens 15 pages before the end: "Tesson did not meet his eyes. 'It is well with me. But my son lies dead. It is no matter. I have others.' He turned abruptly as the sound of footsteps came to his ears, and held back the flap of the tent." Everything else is tell, tell, tell, William gets two adjectives or none and they are relentlessly brutal and full of stereotypical toxic masculinity. Endless, pointless, dripping descriptions of gore. I mean, I agree war is bad but then why are you holding up William the CONQUEROR as your ideal of manhood? Georgette could put words on paper and sell books, but man, this one... it just had so many disparate chunks, like the food vocabulary and the battle scenes and the endless character lists, and the Mary Sue/bolt of lightning approach to explain ALL of William's strategic innovations, and clothing vocabulary, and the hating the French while holding up the Saxons as incongruously heroic (since she hates losers quite a bit) and weaponry vocabulary, and the clown like characterizations of everyone who wasn't a lead character and nothing to hold it together or make it sense as a novel, except that it's based on research on what has survived of descriptions of what happened. What makes me the most mad, is that now I'm pretty sure I wouldn't like a more typical Georgette Heyer romance because the romances in this suck, but since I picked this up because I'd been thinking I should read a Georgette Heyer romance, but it's one of her histories, so not even her fans like it, I don't feel like I've really checked the block until I've read one of her Regency romances. I may just give myself permission to not be well read on iconic romance novel authors, cause this wasn't even all that fun to laugh at.
---