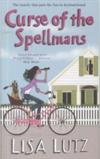 Curse of the Spellmans
3 journalers for this copy...

THEY'RE BAAAAACK.

Their first caper, The Spellman Files, was a New York Times bestseller and earned comparisons to the books of Carl Hiaasen and Janet Evanovich. Now the Spellmans, a highly functioning yet supremely dysfunctional family of private investigators, return in a sidesplittingly funny story of suspicion, surveillance, and surprise.

When Izzy Spellman, PI, is arrested for the fourth time in three months, she writes it off as a job hazard. She's been (obsessively) keeping surveillance on a suspicious next door neighbor (suspect's name: John Brown), convinced he's up to no good -- even if her parents (the management at Spellman Investigations) are not.

When the (displeased) management refuses to bail Izzy out, it is Morty, Izzy's octogenarian lawyer, who comes to her rescue. But before he can build a defense, he has to know the facts. Over weak coffee and diner sandwiches, Izzy unveils the whole truth and nothing but the truth -- as only she, a thirty-year-old licensed professional, can.

When not compiling Suspicious Behavior Reports on all her family members, staking out her neighbor, or trying to keep her sister, Rae, from stalking her "best friend," Inspector Henry Stone, Izzy has been busy attempting to apprehend the copycat vandal whose attacks on Mrs. Chandler's holiday lawn tableaux perfectly and eerily match a series of crimes from 1991­-92, when Izzy and her best friend, Petra, happened to be at their most rebellious and delinquent. As Curse of the Spellmans unfolds, it's clear that Morty may be on retainer, but Izzy is still very much on the case...er, cases -- her own and that of every other Spellman family member.

(Re)meet the Spellmans, a family in which eavesdropping is a mandatory skill, locks are meant to be picked, past missteps are never forgotten, and blackmail is the preferred form of negotiation -- all in the name of unconditional love.
---

Book received for the Secret Santa 2018. I don't know who send it to me.
---

I found in love with this book. The caracters are very specials, the humoristic tone is very good and the story is just crazy.
It is the first time I read a book from this author and I really liked it.
I use this book in different challenges :
-
BINGO 2019
for the category 28.
-
Défi ABC Lecture 2019
for the L.
---

For the winner of the march sweepstake in the french forum.

I hope you will enjoy this book as much as I did.

Have a nice reading !
---
Thank you for the book, tea bags and lovely card! :)
---
A funny book, with an usual writting style.
---
Journal Entry
7
by
Harobed82
at
RABCK, -- By post or by hand/ in person -- France on Monday, October 21, 2019
Released 1 yr ago (10/22/2019 UTC) at RABCK, -- By post or by hand/ in person -- France
CONTROLLED RELEASE NOTES:

Sent to RNAi who wants to read it.
Enjoy! :)
---

Harobed82 so Kindly sent this to me as an RABCK. Lisa Lutz is an author I've been eyeing for a while, so I am excited to read this after my board exams!
---