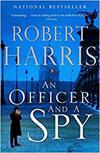 An officer and a spy
Registered by

biggibiest

of
Braunschweig
,
Niedersachsen
Germany on 3/17/2019
3 journalers for this copy...

Journal Entry
1
by

biggibiest

from
Braunschweig
,
Niedersachsen
Germany on Sunday, March 17, 2019
Bookinformation
Januaray 1895. On a freezing morning in the heart of Paris, an army officer, Georges Picquart, witnesses a convicted spy, Captain Alfred Dreyfus, being piblicity humiliated in front of twenty thousand spectators baying "Death to the Jew!"

The officer is rewarded wiht promotion: Picquart is made the French Army's youngest colonel and put in command of "the Statistical Section" - the shadowy intelligence unit that tracked down Dreyfus.

The spy, meanwhile, is given a punishment of medieval cruelty: Shipped off to a lifetime of solitary confinement on Devil's Island, Dreyfus is forbidden to speak to anyone, even his guards, and his case seems closed for ever.

But gradually Picquart comes to believe there is something at the heart of the Statistical Section. When he discovers another German spy operating on French soil, his superiors are oddly reluctant to pursue it. Despite official warnings, Picquart persists, and soon the officer and the spy are in the same predicament...

Narrated by Picquart, An Officer an a Spy is a compelling recreation of a scandal that became the most famous miscarriage of justice in history. Compelling, too, are the echoes for our modern world: an intelligence agency gone rogue, justice corrupted in the name of national security, a newspaper witch-hunt of a persecuted minority, and the age-old instinct of those in power to cover up their crimes.

Paperback, 483 pages
Published by Hutchinson 2013
© Robert Harris 2013

---

Journal Entry
2
by

biggibiest

at
Mainz, Rheinland-Pfalz Germany on Thursday, April 25, 2019
A wishlist book for rahar109.
---

Ooh,the first BC book I've seen with a QR code! And it worked!
Thank you, biggibiest.
---

A novelisation/retelling of the Dreyfus Affair which I dimly remember learning about at school years ago. This book is a lot more interesting than our history lesson was! A gripping tale, even though we know the outcome.
---

Posted to Cross-patch as part of the Reading It, Want It game.
Enjoy!
---

Journal Entry
6
by

Cross-patch

at
Leicester, Leicestershire United Kingdom on Sunday, October 25, 2020
Thank you. Looking forward to reading more by Robert Harris.
---