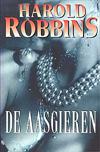 De aasgieren
3 journalers for this copy...
Wat leuk dat je op deze pagina bent komen kijken. Als je dit leest, heb je een boek gevonden, zomaar een onverwacht cadeautje van mij voor jou... Veel plezier ermee! Hierbij trouwens wat spelregels mbt bookcrossing:

1. Het zou fijn zijn als je meldt dat het boek veilig bij jou is.
2. Daarna kun je het boek gaan lezen en als je wilt nog eens schrijven wat je ervan vond.
3. Mag het boek verder reizen, geef het dan door aan iemand anders, of laat het zomaar ergens weer achter, liefst op een veilige, droge plek. Je kunt via de bookcross-site ook weer melden waar je het hebt neergelegd, zodat anderen ernaar op zoek kunnen gaan...

Waarover gaat dit boek? Nadat Jerry Cooper op zestienjarige leeftijd zijn beide ouders door een auto-ongeluk verloren heeft, komt hij in de winkel van zijn onbetrouwbare oom terecht. Deze drijft onder de vleugels van de maffia een illegale loterij.
Tijdens de Tweede Wereldoorlog komt Jerry in Frankrijk terecht, waar hij met behulp van de Corsicaanse onderwereld en enkele hooggeplaatste militairen een illegale handel opzet. Wanneer deze zwendel aan het licht komt, duikt Jerry onder in het kasteel van de rijke zakenman Jean-Pierre Martin, groot geworden door de exploitatie van bronwater.
Jerry, handelaar in hart en nieren, ruikt geld en stelt voor het bronwater op de Amerikaanse markt te introduceren. Het blijkt een gouden idee en de mannen worden schatrijk. De wereld ligt aan hun voeten, hun veroveringen zijn ontelbaar.
Maar dan mengt de maffia zich erin. Plotseling is Jerry zijn leven én zijn fortuin niet meer zeker...
---
Doorgegeven aan Kwatje. Veel plezier met het boek!
---
---
Goede reis, boek! En laat je nog iets van je horen?
Veel leesplezier voor de gelukkige vinder.

Farewell, book! Find pastures new! And please tell me about your travels...

Adieu, cher livre! Bon voyage! N'oublie pas de me raconter où tu vas!

Machs gut, liebes Buch, und melde Dich mal wieder!

---

---