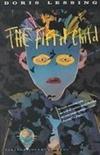 The Fifth Child
Registered by

GoryDetails

of
Nashua
,
New Hampshire
USA on 2/24/2019
2 journalers for this copy...

Journal Entry
1
by

GoryDetails

from
Nashua
,
New Hampshire
USA on Sunday, February 24, 2019
I got this softcover from an online seller, intrigued by the modern-Gothic-horror angle. And it is indeed a horror story, one so embedded in real-life concerns that I found it unnerving. It opens in England in the '60s, with the meeting and marriage of Harriet and David, both of whom are intent on a life full of children and a bustling home life. At first their dream comes true; they have four children in fairly short order, and settle in to a large, sprawling house that seems made for big family gatherings. Their extended families come to visit often and for long periods, and everything seems lovely - with only a few suggestions that perhaps they should work harder at birth control, since the frequent pregnancies are hard on Harriet and the family's finances are stretched to the point where they need regular help from a wealthy relation.
But then they conceive a fifth child, and everything starts to go pear-shaped. The pregnancy is much harsher than the previous ones, and the child shows signs of physical and, as it grows, mental and emotional issues. I'm not sure if it's a sign of the times, or perhaps the author's hint that Harriet's view of things doesn't match everyone else's, but her first attempts to ask for help with Ben and his problems are gently shrugged off, as if the doctors and teachers don't see - or are unwilling to mention - his challenges.
As the story progresses it's clear that Harriet is quite right, something is badly wrong with Ben; whether it's a developmental issue or something more supernatural (goblins, trolls, and changelings are mentioned more than once, and not always frivolously) is left for the reader to decide, though the hints that he's a throwback to early and violent hominids are rather strong.
Since the stress of coping with a violent, emotionally-difficult child can fracture the best of families, it's not surprising that it breaks this one, and it's heart-breaking to see how hard Harriet and David try to keep things together. At one point, after it's clear that toddler Ben is dangerous to the other children, they go so far as to institutionalize him - but Harriet can't bear to think what's happening to him and goes to get him back, a turning point in the story. The scenes in the institution are beyond appalling, but bringing Ben home has horrible results for the rest of the children, and in the absence of any decent outside help - therapy never seems to be an option, possibly due to the timeframe? - the once-blissful family gradually scatters and dwindles... Very wrenching story here!
[There's a
TV Tropes page
on the novel. And for a compare-and-contrast on a difficult family situation, see Lionel Shriver's
We Need to Talk About Kevin
.]
---

Journal Entry
2
by

GoryDetails

at
Nashua, New Hampshire USA on Saturday, March 16, 2019
---
Thank you GoryDetails for The Fifth Child. I'd been looking forward to reading it for a long time.
---