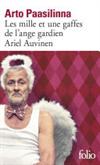 Les mille et une gaffes de l'ange gardien Ariel Auvinen
6 journalers for this copy...

pas le meilleur de l'auteur. L'idée d'un ange gardien gaffeur était pourtant bonne. Son ironie mordante va beaucoup me manquer.
---

Journal Entry
2
by
Tamsine
at
Le Marché Bar in Strasbourg, Alsace France on Thursday, February 28, 2019
Pour le meet-up. Si ce n'est pas celui d'aujourd'hui, ce sera pour le prochain.
---
Un Paasilinna de plus sur mon étagère ! Merci Tamsine
---
Sur la table du meet-up. S'il ne trouve pas de lecteur intéressé, ce livre attendra sur l'étagère du fond le passage d'un bookcrosseur voyageur !
---

Je me réjouis à l'avance à l'idée de retrouver l'univers d'Arto Paasilinna.
---

---
Attrapé lors de la rencontre bookcrossing.
---
Drolatique.
Cela se lit bien.
On se demande comment ses agissements si catastrophiques peuvent être tolérés par le bien.
Mais enfin, à part quelques morts...
---
Libéré lors de la réunion strasbourgeoise du bookcrossing.
---

Un petit Paasilinna de temps à autre, c'est bon pour le moral.
---

Un moment de pure détente, léger comme une plume d'ange.
---

Journal Entry
12
by

Indy2012

at
The Drink Doctor in -Paris 1er, Ile-de-France France on Sunday, July 07, 2019
Released 3 mos ago (7/9/2019 UTC) at The Drink Doctor in -Paris 1er, Ile-de-France France
WILD RELEASE NOTES:
Un Paasilinna qui a déjà bien tourné à Strasbourg, il est temps qu'il aille voir Paris.
Voilà ce qui est génial dans le bookcrossing : on découvre des livres devant lesquels on aurait pu passer sans s'arrêter, et c'est magique.
Et donc, bienvenue à toi, nouveau lecteur qui a découvert celui-ci !
Merci de t'être connecté sur ce site. N'hésite pas à t'inscrire (sous un pseudo), c'est totalement gratuit et anonyme. Aucun spam non plus. Juste un grand plaisir : suivre le voyage des livres en liberté.
Des questions ? De nombreux bookcrosseurs prêts à te répondre sur le forum :
http://www.bookcrossing.com/forum/17
---
Peut-être pour le bingo 2019...
---