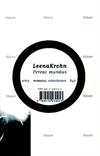 Pereat mundus; romaani, eräänlainen
2 journalers for this copy...
"Pereat mundus on "romaani", joka käsittelee lopun pelkoja ja filosofioita: maailmanlopun, vuosituhannen lopun, ihmisen lopun, luonnon lopun, työn lopun, kirjallisuuden lopun, leikin lopun, rakkauden lopun...

Teos koostuu kolmestakymmenestäkuudesta luvusta tai kertomuksesta, joissa kaikissa esiintyy pää- tai sivuosassa Håkan-niminen henkilö. Kertomusten Håkanit ovat kuitenkin - useimmiten - eri Håkaneita. He elävät eri aikoina ja eri paikoissa, he ovat eri-ikäisiä, eri tavoin kovaosaisia tai eri tavoin menestyneitä ihmisiä. Kaikki he joutuvat elämässään tuntemattomille rajoille ja sulkeutuvien ovien eteen.

Toinen "romaanin" päähenkilöistä on tohtori Keinolempi, verkossa neuvoja jakava terapeutti, jolla on hankala potilas, Håkan. Tämän päähänpinttymä on maailmanloppu.

Eräänä teoksen monista lähtökohdista on ollut Carl Sandburgin säe, joka liittyy Edward Steichenin valokuvanäyttelyyn The Family of Man: "Maailmassa on vain yksi ihminen ja hänen nimensä on Kaikki Ihmiset."

Pereat mundus on moniulotteista ja arvoituksellista proosaa, joka liikkuu lajien välissä ja vie lukijansa ajattelun rajavyöhykkeille."

Parempi kuin Unelmakuolema, minkä luin kai jotain kolme vuotta sitten. Leena Krohn on kieltämättä aika mielenkiintoinen kirjailija.
---
Journal Entry
2
by
slipperbunny
at
Helsinki, Uusimaa / Nyland Finland on Tuesday, September 14, 2021
Rantakassi-kirjana eteenpäin, lukuiloa!
---
Kiitos rantakassikirjasta.
---