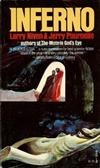 Inferno
1 journaler for this copy...

Summary from back cover:

"Welcome to Infernoland," an unearthly voice hisses. And the late, great Allen Carpentier plunges into the fantastic abyss of an ingenious, living hell.

His is a one-way journey through dim nether-regions where flame-colored demons wield diabolically sharp pitchforks . . . where tormented vixens reign forever in a pond of sheer ice.

There, in this land of torment and terror, he discovers the amazing truth of the ultimate adventure that lies beyond the grave.
---