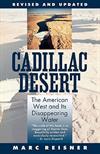 Cadillac Desert
Registered by

perryfran

of
Elk Grove
,
California
USA on 1/15/2019
3 journalers for this copy...

Journal Entry
1
by

perryfran

from
Elk Grove
,
California
USA on Tuesday, January 15, 2019
I've had this book on my shelves for many years but never got around to reading it. Time to let it loose.

---

Cadillac Desert: The American West and Its Disappearing Water
by Marc Reisner

The story of the American West is the story of a relentless quest for a precious resource: water. It is a tale of rivers diverted and dammed, of political corruption and intrigue, of billion-dollar battles over water rights, of ecologic and economic disaster. In Cadillac Desert Marc Reisner writes of the earliest settlers, lured by the promise of paradise, and of the ruthless tactics employed by Los Angeles politicians and business interests to ensure the city's growth. He documents the bitter rivalry between two government giants, the Bureau of Reclamation and the U.S. Army Corps of Engineers, in the competition to transform the West.

Based on more than a decade of research, Cadillac Desert is a stunning expose and a dramatic, intriguing history of the creation of an Eden—an Eden that may be only a mirage.
---

Journal Entry
2
by

perryfran

at
Wishlist Tag Game , A Bookcrossing member -- Controlled Releases on Tuesday, January 15, 2019
Released 6 mos ago (1/15/2019 UTC) at Wishlist Tag Game , A Bookcrossing member -- Controlled Releases
CONTROLLED RELEASE NOTES:

Sending to ResQgeek as a wishlist tag. Enjoy!
---

Arrived in the mail yesterday. Thank you!

This book was recommended to me by a friend from Colorado during a conversation we had about water issues in the West. More recently, the Thomas Jefferson Hour podcast is sponsoring a winter retreat discussing this book and the importance of water in Western politics. All of which intrigues this boy from the East, where water is plentiful and generally taken for granted. I'm looking forward to learning more about how water scarcity influences life in the West.
---

Let me start by saying that this is a *LOT* of information to digest and absorb. This book feels like a comprehensive look at how water development has changed the face of the western half of the United States, and the politics that brought it all about.

As someone who was born and raised in the East, and who has only visited the Western half of the country for short vacations, the magnitude of the issues involving water is simply astounding. But the "solutions" to the water issues implemented over the decades often strike me as abhorrent. We have forever altered the natural ecosystem of huge areas of the country in pursuit of water to supply the burgeoning population centers that have sprung up throughout the region, where natural water supplies are, as best, scarce.

While many of these water projects are, indeed, marvels of engineering, many others are badly conceived or designed, sometimes catastrophically so. Much of this book focuses on the hubris of assuming that we know how to "tame" or "control" nature. But I think my biggest take away from this book is that there would never have been any "water issue" had settlement of the West not been so strongly encouraged. There is only a "water issue" because we built cities in places where the environment does not provide sufficient resources for them to exist. But build them we did, and there is no way to put that genie back in the bottle, so we are left to figure out how to best supply the needs of these populations, while minimizing any further damage we might do to the natural environment.

While this copy of the book is "Revised and Updated", this update was published in the early 1990s, so that the information, even as updated, is already a quarter century old. Since then Las Vegas has been one of the fastest growing cities in the nation, which certainly hasn't simplified any of the problems discussed in this book. It would be interesting to see what, if anything, has changed in the last 25 years.
---

Available at today's BC-in-DC meeting.
======================

DEAR FINDER,
Welcome to BookCrossing.com, where we are trying to making the whole world a library!


If you have not already done so, please make a journal entry so we know this book has found a new home. You don't need to join BookCrossing and you can remain completely anonymous. However, we encourage you to join so that you can follow this book's future travels. It's fun and free, and your personal information will never be shared or sold. If you decide to join, consider listing ResQgeek (or any of the other journalers) as referring you.


Take your time reading the book, and after you finish, please make another journal entry to record your thoughts about it. This book is now yours, and you can keep it if you choose, though we would love for you to share it. If you pass it along, please make a release note to let others know where you left it.


I hope you enjoy the book!

---

I picked this book from a pile of books at the June BCinDC meet-up.
---