Die Ritter der vierzig Inseln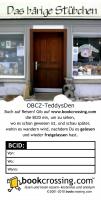 Registered by

OBCZ-TeddysDen

of
Herisau
,
Appenzell Ausserrhoden
Switzerland on 3/21/2019
2 journalers for this copy...

Journal Entry
1
by

OBCZ-TeddysDen

from
Herisau
,
Appenzell Ausserrhoden
Switzerland on Thursday, March 21, 2019
zu behändigen im bärigen Stübchen für Mitglieder - it waits in the cupboard for members to be picked up in beautiful Appenzellerland.
---

Journal Entry
2
by

OBCZ-TeddysDen

at
Zürich, Zürich Switzerland on Thursday, March 21, 2019
geht an spy-there
---

noch ein Buch aus manumas Russsensammlung :)
---

Zu Anfang des Buches steht ein Zitat des Jugendbuchautoren Wladislaw Krapiwin (den Lukianenko sehr bewundert): "... auf keiner Welt bekriegen sich Kinder untereinander. Sie sind noch nicht vollkommen verrückt geworden."

Wer das Buch dann liest, findet im Prinzip aber nichts anderes als einen permanenten Krieg unter Kindern. Es sind 40 Inseln, auf denen je etwa 10 Kinder leben. Ihre Aufgabe ist, die anderen Inseln zu erobern. Dazu dienen Holzschwerter, die sich im Kampf aber in echte Schwerter verwandeln. Die Kinder wurden alle von der Erde entführt. Die Gruppe, die alle 40 Inseln erobern kann, darf zur Erde zurückkehren. Soweit die Spielregeln der "Ausserirdschen" für diese Versuchsanordnung.

Also metzeln sich die Kids mit ihren magischen Holzschwertern gegenseitig ab, es fliesst viel Blut, die dauernden Todesfälle sind alles andere als magisch. Ich habe bloss weitergelesen, weil ich wissen wollte, wie er dieses Schlachtfeld wieder aufräumt ... hatte da so einen Dreh im Kopf mit einer gross inszenierten TV-Show à la Survival, bloss hier auf Leben oder Tod. Wird er die Geschichte wenigstens zum Schluss noch retten? Aber nein, banale Ausserirdische, enttäuschend.

Den Kindern gelingt es, die Wesen zu überwältigen - doch dann sind sie tatsächlich so blöd, in ihrem Hass alle umzubringen, so dass der Weg zurück zur Erde für immer verloren ist. Es waren ja Techniker und Wissenschaftler, die sie erbarmungslos töteten, die einzigen, die das Teleportal zur Erde wieder hätten reparieren können ...

Kurz: das Buch ist tatsächlich so schlecht wie es aussieht, man kann es sich sparen. Der Autor soll aber andere, bessere Geschichten geschrieben haben, etwa die Wächter-Serie.
---