The No. 1 Ladies´ Detective Agency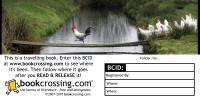 3 journalers for this copy...
Ich hatte die gleichnamige TV-Serie gesehen. Leider war es so, wie es so oft ist: Verfilmung und Buch haben wenig gemein. Ich habe im Buch nicht das gefunden, was mir an der Serie so gefallen hatte. Trotzdem eine nette Geschichte der Detektivin Precious Ramotswe, die in Botswana lebt. / I watched the TV-series. But like it often is: TV-series and book have not much in common. I didn´t find in the book what I liked about the TV-series. Despite this, it is a nice story of the lady detective Precious Ramotswe living in Botswana.
---
Journal Entry
2
by
melodica
at
Another bookcrosser, -- By post or by hand/ in person -- United Kingdom on Tuesday, July 02, 2019
Released 1 mo ago (7/2/2019 UTC) at Another bookcrosser, -- By post or by hand/ in person -- United Kingdom
CONTROLLED RELEASE NOTES:
Will be sent to Abi-Gibby tomorrow - I hope you and your friend like my choice for your friend´s OBCZ.
---

Thank you for the parcel of books, it will help greatly with the OBCZ, much appreciated. I've not yet readnthe detectives agency so will read this one befor putting it on the shelfs
---

Journal Entry
4
by

Abi-Gibby

at
Jury's Inn in Plymouth, Devon United Kingdom on Thursday, July 18, 2019
Released 4 wks ago (7/22/2019 UTC) at Jury's Inn in Plymouth, Devon United Kingdom
WILD RELEASE NOTES:
Congratulations, you have picked up a travelling book!
If you have a moment, we'd love you to let us know you have the book as we're keen to follow its journey. You can even post a review when you've read it before passing it on to the next lucky person.
Happy reading!
Not sure what to do? Follow these steps!
1) You may continue as an Anonymous Finder. Or, Register as a member , then you too will receive future journal entries on this book and track its journey around the world!
2) Make a journal entry on this book to let us know how you found it!
3) If you choose to read the book, please make another journal entry when you finish it to let us know what you thought!
4) Ready to pass the book on? Click on "make release notes" to let us know where it's going! Leave the book in a public place or give it to a friend!
***Please Note***
When re-releasing this book please be aware that airports are not a good place to leave books unless they have a specific book exchange shelf or area, due to security problems, so they may well just be disposed of.
**** Also charity shops may well discard books that have been labelled in any way and they mostly chose only the books in the very best condition to place on their shelves and discard the rest-so another bad release option. ****
---

Journal Entry
5
by

AnonymousFinder

at
Plymouth, Devon United Kingdom on Tuesday, July 23, 2019
Picked up at the hotel I was staying at along with another book, hitchhikers guide to the galaxy, will be taking them back to London with me on Friday
---