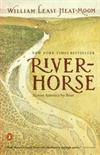 River-Horse. Across America by Boat
1 journaler for this copy...
My boss gave me a gift card for Christmas and I used it forthwith to shorten my wishlist. This book by one of my favorite authors was on my wishlist since 2013-01-21. I'm looking forward to join him on another journey through
America
.
Blurb
The author of
Blue Highways
and
PrairyErth
"takes us on a lifetime voyage full of imagery, insight and appreciation." --
Cleveland Plain Dealer
In his most ambitious journey ever, William Least Heat-Moon sets off aboard a small boat named Nikawa ("river horse" in Osage) from the Atlantic at
New York
Harbor in hopes of entering the Pacific near
Astoria, Oregon
. He and his companion, Pilotis, struggle to cover some 5,000 watery miles, often following in the wakes of our most famous explorers, from Henry Hudson to
Lewis and Clark
.
En route, the voyagers confront massive floods, dangerous weather, and their own doubts about whether they can complete the trip. But the hard days yield incomparable pleasures: generous strangers, landscapes untouched since Sacajawea saw them, riverscapes flowing with a lively past, and the growing belief that efforts to protect our lands and waters are beginning to pay off.
Teeming with humanity, humor, and high adventure,
River-Horse
is an unsentimental and original arteriogram of our nation at the millennium.
My other works by this author
---
Journal Entry
2
by
litrajunkie
at
Pretzfeld, Bayern Germany on Monday, June 17, 2019
Least Heat-Moon's first book was about a circle: his journey on blue highways all around the contiguous United States, his second about a rectangle: a deep map of one county in Kansas, this one is about a - if somewhat crooked - line: the awe-inspiring attempt to cross the U. S. "from sea to shining sea" on waterways, whereever possible, and thereby to retrace the
expedition of the Corps of Discovery, Lewis & Clark
.
Before reading this book, I had no idea that such a thing was even remotely possible. As usual, the author digs up strange facts and hidden links. Reading it is like a treasure hunt, one discovers one little gem after the other, some of the biggest nuggest turn up in the most unusual places - those often neglected by less perceptive travelers. Don't expect to read through a whole book by this author without having to look up some words in the dictionary - I guess even native speakers cannot much the vocabulary of this painstaking author, who not only lets us partake in the details of his quest, but also serves up the story in the terms best suited to his purpose, not just those most handily available.
The way the story of (sometimes) very ordinary things and people is told with one of the best literary styles available in contemporary America turns reading each book by this author into a special, unforgettable experience for his audience. Also, if you thought that river navigation must be (at least in our times of technology and science) a lot easier than in the days of
Mark Twain
, the log of this real adventure brings plenty of proof that this is indeed not the case.
In my opinion, there are only two negative aspects about the book: the part of the journey going downriver to the Pacific is a lot less detailed than the upriver part and the maps are few and far between. Again, more detail would make it easier two follow the trail of Least Heat-Moon and his companions on board and along the river banks.
Quotable Quote
"Why is this never easy?" Because this is America, I said. I was thinking that we often fail to understand how wild this land is even today, sometimes mistaking the ruining of wilderness as a subduing of it.
(p. 152)
- - -
efell Lesechallenge 2019
: Buchstaben R: Reisebericht aus einem fernen Kontinent
---