Cool for Cats
Registered by
Lady-Mondegreen
of
Basingstoke
,
Hampshire
United Kingdom on 4/6/2004

This Book is Currently in the Wild!
5 journalers for this copy...
From the Back Cover: It's 1979 and Linda Tyler is an assistant cook, engaged to a bank clerk in a sleepy town called Withingdean, when she answers an ad in a music paper. Suddenly, she gets the job that everyone else in England wants. Within weeks, her life changes beyond recognition. She finds herself in London, working as a journalist on NWW, a punk and New Wave music magazine. Free records by Blondie, Squeeze and The Clash land on her desk, and her name is permanently on the guest list. Before the year is out she will be propositioned by four members of staff (including the work experience boy) and meet some rising stars (and occasionally spill Knickerbocker Glory on them). Along the way, though, Linda Tyler will also discover who and what she loves most - and make the most important decision of her life.
I suppose this comes into the chick-lit category so don't expect great literature. It is a fun book from the same genre as Nick Hornby or Bridget Jones! I enjoyed reading it and wanted to send it to YowlYY as I know she has an interest in punk! I hope she also enjoys a little light reading? I know she has a very big tbr mountain so I hope she is ok with me adding to it!

---
Release planned for
Wednesday, April 07, 2004
at
Postal Release
in Controlled release, England United Kingdom.
---

Arrived as a RABCK on Saturday, just before Easter - can I consider it an extra Easter Bunny surprise?? Thanks to Lady-Mondegreen... I just love surprises, and now that I know there's a punk element in this book I am even more curious!!
I am putting the book in my TBR bookshelf in the bedroom... hope to manage to read it this year!! Does it say anything about my TBR pile??
---

---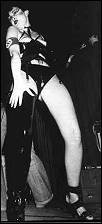 The book is being written by the arch enemy of Bookcrossing, and I was very curious on how she writes. The style is ok, nothing special (I much prefer Nick Hornby, especially HIGH FIDELITY!).
This is very much chick lit, although masked by a bit of pink spray "a' la punk". It started well, with the listing of Linda's most significative 10 songs in her life, and it has its good parts - naming all the bands of my youth...LOL! - but I couldn't find this girl really interesting. She is a wannabe punk, but is too much of a bourgeoise girl with all the problems of relationships with a boring guy (David), and even when she gets to travel to New York and Sydney, she didn't make much of it. Sometimes I was really tempted to stop reading and getting on with another book, just because she got so much on my nerves!! LOL! I guess I was just making too many comparisons with myself, when I moved to Germany, and her life once she moved to London. Do you know the feeling when you just want to jump into the book (or the film) and give the hero/heroine a big kick in the backside?? Well, this is what happened to me more than once reading it!
Point-wise, it gets only a 5 from me, but the big plus point of this book was that it helped me forget all the anger that the book I've read before caused, so...it's not all too bad!
Right now I have with me the bookbox that dodau has launched... Instead of releasing it in the wild, I will put it in there and give to other BCers in the UK the chance to give it a go. I am sure there are more appreciative readers for it out there! Thanks again Lady-Mondegreen!
---

This book visited me with dodau's bookbox. I'm not really a chick-lit fan so am returning it to the box to continue its journey.
---
Taken from dodau's bookbox.
---
Journal Entry
8
by
arturogrande
at
Bookbox in Bookbox, A Bookbox -- Controlled Releases on Wednesday, October 12, 2005
Released 13 yrs ago (10/12/2005 UTC) at Bookbox in Bookbox, A Bookbox -- Controlled Releases
WILD RELEASE NOTES:
RELEASE NOTES:

Put into cartref's bookbox.
---
I'd just been reading a thread about this author's aversion to bookcrossing when I realised this book was in a book box I had...well I had to take it out didn't I?? I wonder if I should start a ring with it? Tee hee
..................
Read whilst on holiday in France and really enjoyed it - lots of nostalgia and reminders of bands I'd forgotten about.
---
Journal Entry
10
by
Sunnybubble
at
Chemin de la Taillée in Meursac, Poitou-Charentes France on Friday, May 28, 2010
Released 9 yrs ago (5/28/2010 UTC) at Chemin de la Taillée in Meursac, Poitou-Charentes France
WILD RELEASE NOTES:
Welcome to BookCrossing!

Thank you for picking up this book. Please make a journal entry to let me know that this book has found a good home with you. You may choose to remain anonymous or to join (its free). If you join, please consider indicating that you were referred by Sunlightbub.
I hope you enjoy the book. You can make another journal entry with your comments when you've finished reading. Whenever you're ready to send it on its way, make a journal entry if you are giving or sending this book to a known person, or release notes if you are leaving it "in the wild" again for anyone to catch. Then watch its journey. You'll be alerted by e-mail each time someone makes another journal entry. It's all confidential (you're known only by your screen name and no one is ever given your e-mail address), free, and spam-free.
---