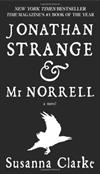 Jonathan Strange and Mr Norrell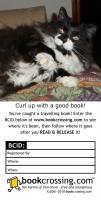 Registered by

GoryDetails

of
Nashua
,
New Hampshire
USA on 2/6/2019
2 journalers for this copy...

Journal Entry
1
by

GoryDetails

from
Nashua
,
New Hampshire
USA on Wednesday, February 06, 2019
I got this hefty softcover at a local Salvation Army thrift shop, for another release copy. (This edition includes the illustrations by Portia Rosenberg.)
This is a truly delightful book, beautifully written, with a mix of humor and alternate-history and practical magic that pleased me very much.
The gist: in the early 1800s in a world very similar to our own, magic used to be not only real but carefully documented - but the practicing magicians have faded away, and now people call themselves magicians when all they do is debate the value of the works left behind by their predecessors - nobody actually
does
any magic now. Until a bookish little fellow named Norrell turns up and challenges these "study-magicians" to a demonstration, on condition that if he can wow them, they'll all give up any claims to be magicians. He doesn't look very magical, but his power is impressive - and soon he's the only practical mage in England (and possibly in the world). And he wants to stay that way, so he goes about collecting all the books he can find by previous magicians or students of same, keeping them locked away in his country house and refusing to share the knowledge. Eventually he does take on an apprentice, one Jonathan Strange, a tall, dark and handsome country gentleman who looks the part of a magician much more than Norrell does - and who's much more interested in sharing and spreading the knowledge. The two eventually become rivals, and then (from Norrell's viewpoint anyway) archenemies, each one doing his own researches. But things get even more complicated when their growing power attracts the attention of the Fair Folk, especially the Gentleman with the Thistledown Hair, an amoral and powerful fairy lord...
Other characters include Stephen Black, the butler of a noble family which fell under the influence of the Gentleman - and Stephen himself catches the Gentleman's eye, and finds that being "befriended" by such a being has serious consequences. (What Stephen eventually does about this is utterly awesome!) Then there's Norrell's mysterious and taciturn servant Childermass (who has a gift with tarot cards, if no other magic), and the odd, possibly mad vagrant Vinculus, who bears a prophecy about the legendary Raven King, most powerful human magician ever.
I enjoyed learning about all these characters, seeing the way that "practical magic" might be used in warfare (it's trickier than one might think, but Strange comes up with some dandy techniques - and a few that are nightmarish beyond description), and getting the feeling that this is an entire, fully-realized world, with many (manymanymany) references to and quotations from (fictional) books by other magicians, often with copious footnotes ranging from pedantic to amusing ("Magicians... will quarrel about any thing..."), sometimes running to several pages (taking a note from Terry Pratchett, apparently!).
We see the hard work, arduous study, distasteful aspects, and outright perils of doing magic. There are the beauties and wonders, as well as the terrors, of the Faerie realm. There's the human cost of warfare, sometimes eased by magic and sometimes made worse. There's the personal tragedy faced by Strange and his loved ones when the Gentleman decides to have a little fun. There's humor, too - a lot of it, some very dry and some almost slapstick, especially when dealing with the social-climbers at fashionable parties. And the way it weaves myth into a realistic-feeling storyline is just stunning. Strongly recommended!
***
There's a
BBC mini-series
based on the novel, which I enjoyed even though they did tweak the climax and concluding scenes farther than I liked. And fans of audiobooks might enjoy the unabridged-audio version of the book narrated by Simon Prebble.
[The book's
TV Tropes page
contains lots of interesting info - along with some spoilers, so browse at your own risk!]
---

Journal Entry
2
by

GoryDetails

at
Little Free Library, Kessell St in Grafton, Massachusetts USA on Wednesday, February 06, 2019
Released 2 yrs ago (2/7/2019 UTC) at Little Free Library, Kessell St in Grafton, Massachusetts USA
WILD RELEASE NOTES:

I left this book in this lovely rainbow-painted Little Free Library; hope someone enjoys it!
[See other recent releases in MA
here
.]
*** Released for the
2019 Great Backyard Bird Count
release challenge, for the raven on the cover; GBBC info
here
. ***
*** Released for the
2019 Movie release challenge
. ***
---

I picked up this book at a Little Free Library in Grafton, MA yesterday. It will be added to my TBR pile. Thanks for sharing!
---