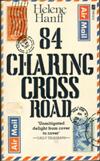 84 Charing Cross Road / Duchess of Bloomsbury Street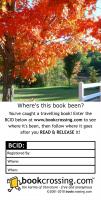 Registered by

GoryDetails

of
Nashua
,
New Hampshire
USA on 1/14/2019
This book is in a Controlled Release!
3 journalers for this copy...

Journal Entry
1
by

GoryDetails

from
Nashua
,
New Hampshire
USA on Monday, January 14, 2019
I've had this paperback (inscribed to a previous owner) on my keeper shelves for some time, and I think it's time it went traveling. It's an omnibus edition that includes both the short and delightful
84 Charing Cross Road
and the longer, more poignant
Duchess of Bloomsbury Street
.
84 Charing Cross Road
is a series of letters exchanged between a crusty New York writer and a knowledgeable London bookshop clerk from 1949 to the '60s. The love of books and the details of daily life at either end of the correspondence gives the book a thoroughly charming tone. Anglophiles and bibliophiles should love this one!
The whole thing is quotable, but here's one charming bit, just to provide the flavor; Helene has received another book from Frank, the bookshop clerk, and is describing her pleasure in finding that its pages weren't even cut, adding: "Did I tell you I finally found the perfect page-cutter? It's a pearl-handled fruit knife. My mother left me a dozen of them, I keep one in the pencil cup on my desk. Maybe I go with the wrong kind of people but i'm just not likely to have twelve guests all sitting around simultaneously eating fruit."
[The book inspired a stage adaptation, as well as a
1987 film
.]
The Duchess of Bloomsbury Street
is the follow-on account and has the same tart and surprising charm, though with the bittersweet element that by the time Hanff finally did get to London, the bookstore whose staff she'd corresponded with for decades was no longer in business, and her main correspondent had passed away. But her reactions to the city she'd wanted to see for so long are delightful to read, and - as always - make me want to go to London again myself...
There are lots of nice touches here, including her meeting with Leo Marks and his wife; Marks was the son of one of the owners of the bookstore at 84 Charing Cross, and Hanff hits it off with the couple at once. It's almost a pity that Hanff did not know (and could not be told at the time, due to security issues) that Marks had been a cryptographer during WWII, deeply involved in helping decode the communications of secret agents, all of which he eventually wrote about in his wonderful
Between Silk and Cyanide
.
While this book focuses on Hanff's London visit more than on the books she describes so lovingly in
84 Charing Cross Road
, she does get in a few references here and there, including a delightful explanation as to why she's read relatively few books in her life, despite reading a great deal. She talks about discovering Arthur Quiller-Couch's lectures in book form, and trying to read them, but finding herself sidetracked every other page due to some reference she wasn't familiar with, which required finding some other book and reading that, only to have to find still more works to explain that one. By the time she eventually finished Quiller-Couch, "what with one thing and another and an average of three 'Wait here's' a week, it took me eleven years to get through Q's five books of lectures." And then there's the re-reading problem: "While other people are reading fifty books I'm reading one book fifty times. I only stop when at the bottom of page 20, say, I realize I can recite pages 21 and 22 from memory. Then I put the book away for a few years." I can sympathize with that, being an avid re-reader myself!
---

Journal Entry
2
by

GoryDetails

at
Nashua, New Hampshire USA on Monday, January 14, 2019
---

This book was picked up from the post office today. Thank you for sharing this book with me.
---

Absolutely charming. I really enjoyed this witty and warm epistolary novel between a New York script writer, Helene Hanff and Mr. Frank Doel, who works in a London used book store. Both Hanff's and Doel's personalities shine through their letters over the course of their 20-year correspondence.
The book Duchess of Bloomsbury Street, a journal Hanff kept during her stay in London is just as charming.
---

---
Thank you for the book Queen72. Have been wanting to read this one for a long time.
---
I loved this little gem of a book!
---
Sending this one to my friend brklyn49. Enjoy your travels little book!
---