Every Heart a Doorway
Registered by

hyphen8

of
Honolulu
,
Hawaii
USA on 12/3/2018
3 journalers for this copy...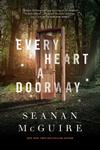 This is not an ordinary book: it's a
BookCrossing
book! BookCrossing books are world travelers - they like to have adventures and make new friends...and every once in a while they even write home to say what they've been doing.
~ ~ ~ ~ ~ ~ ~
Hardcover with dust jacket; wonderfully evocative cover art! I believe this copy came from the fall rummage sale at
Manoa Valley Church
.
I love this: Eleanor West is a hero, and Richard Mayhew would understand why. So would Jacob Kowalski: how do you readjust to the mundane world when you
know
that there's something else out there?
If this were illustrated I'd probably have to keep it, but I do have the e-book version, so I'm willing to let the hardcopy go.
This will be headed out soon as a
wishlist tag
.
---

Thursday, December 06, 2018: mailed to New Hampshire.
USPS tracking
9549 0104 3301 8340 4514 37
ETA 12/27/18
Released for DragonGoddess's
Name challenge
and my
D for December challenge
.
~ ~ ~ ~ ~
I'm so glad you've found this book!
Please take a moment to make a journal entry and let this book's previous readers know that it's safe with you.
How and where did you find the book? What did you think of it? What are you going to do with it next?
It's now your book, for you to do with as you please: keep it, pass it to a friend, or maybe even leave it where someone else can find it!
If you've ever wondered where your books go after they leave your hands, join BookCrossing and you may find out: you'll be able to follow your books as new readers make journal entries - sometimes from surprisingly far-flung locations.
BookCrossing: making the whole world a library!
---

Journal Entry
3
by

GoryDetails

at
Nashua, New Hampshire USA on Monday, December 31, 2018
The book arrived safely today; many thanks! (And Happy New Year!) I wished for this one because the concept of wandering into other worlds features in several of my favorite novels - and the idea that this might change the young travelers in unexpected ways intrigued me... (The fact that the author also wrote the marvelous "Newsflesh" series under the name "Mira Grant" certainly added to my anticipation; see my comments on the first book,
Feed
,
here
.)
Later: Oh, this was
good
! It blended the charm of the many strange fictional worlds with the darker aspects of those places - and added the anguish of young people who found their true homes in those bizarre locales and now are suffering the pangs of having lost their way back. (The premise includes the possibility that some of them will find ways into their fantasy worlds again, and also mentions that not everyone who makes such trips wants to go back - there's a separate school for the kids who are glad to have escaped, and need help in forgetting what they went through.)
Here, the story centers on Nancy, who found herself in the Halls of the Dead - a world where she and the other servitors learned to stand still and silent for as long as their lords and ladies wanted them to. Doesn't sound very much fun, but Nancy's perspective shows how drawn she was to a place of clear rules and frequent quiet. (We learn that she's asexual, and possibly hyper-sensitive to noise and color; since her parents want her to be a "normal" girl and provide her with vivid and very girly clothing and some nice boys to date, it becomes clear why she doesn't want to stay in this world. That said, there's some sympathy for the parents too; they seem to want the best for her, they're just not aware of what that is. And from an outsider's viewpoint, the kids would seem to be suffering extreme trauma and/or Stockholm syndrome, so the entire plot has some intriguing and problematic elements.)
Other characters include the bouncy Sumi, who came from a Nonsense world (vaguely Alice-in-Wonderland-ish), twin sisters Jack and Jill, from a monster-movie world full of mad scientists and vampires, and Kade, a transboy who was taken by the faeries under the impression that he was a girl, only to be kicked out again after the Goblin King admired Kade's military prowess (as he was killing said King - these worlds are weird) and claimed him the new Prince. (One might think that a school full of kids who share these weird otherworldly experiences would also feature lots of tolerance, but some of the kids are bigoted, selfish, and/or downright nasty.)
The setup provides plenty of material for a book on its own, but it's not nearly all. While Nancy's starting to learn about the different categories of these alternate worlds - Nonsense vs. Logic, Whimsy vs. Horror, etc. - it seems that there's a murderer in the school, robbing victims of different body parts. And while the deaths are bad enough, revealing the problem to the outside world could result in shutting down the entire school...
Fascinating, poignant, creepy, and sometimes quite funny. I thoroughly enjoyed this!
Oh, and don't miss the "about the author" bit at the end - I laughed out loud several times, including at the bit where "she has yet to be defeated in a game of 'Who here has been bitten by the strangest thing?'"
[There's a
TV Tropes page
on the book, with some entertaining tidbits. And I see that it's part of a series, so there will be more to read!]
---

Journal Entry
4
by

GoryDetails

at
Nashua, New Hampshire USA on Friday, April 26, 2019
---

I took this from kaila-ann's Already Been Crossed Book Box.
---