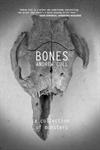 Bones
Registered by
BarkLessWagMore
of
Merrimack
,
New Hampshire
USA on 11/26/2018

This Book is Currently in the Wild!
2 journalers for this copy...

This lovely author sent me two copies of his newest work (all the way from Australia!) so that I could release them in the Little Free Libraries in my care. I'm going to release this one asap when I visit the mall tonight and read the other asap before setting it free at the other park location because I can't NOT read it!

Here are my thoughts now that I'm finished:

Bones is author Andrew Cull's debut collection of short fiction and it is pretty fantastic if you like a story where the creep factor is high and quickly settles under your skin and festers.

Did You Forget About Me?

A man returns to his childhood home. He, his mother and sister fled from it 23 years earlier leaving behind an abusive man to simmer in his ugliness. The trip back home brings back all of his deeply buried memories to terrify and to haunt him because some things just don't want to stay buried.

This is some immersive storytelling that is eerie and atmospheric and steeped in childhood fears, abuse and a terribly tragedy. There was no way I was putting this down once I started it because I HAD to know how it ended.

Hope and Walker

"We were both 10. But he was dead. And I sat drawing him"

This was my favorite story in the collection. It tells the story of a young girl who grows up in the family mortuary. Is it weird that she finds it calming to say goodbye to the dead by drawing a final picture of them in her notebook? I vote no, I loved her. Some might think it's a little morbid but it's also very sweet until one day one of the dead begins talking back to her . . .

The characters are well written characters and there are some pitch dark images in this story that will linger around in my brain for a long while to come.

The Trade

"I was seven and that was the summer death stalked our home."

All of these stories are haunting and grounded in realism but this one hit me a little harder than the others. It's set in the sweltering heat as a young child watches his family disintegrate knowing there's nothing he can do about it. The feelings of helplessness and the fear of an unknown future will knock you down with its accuracy. Then the author throws a monster in the mix! A monster that is leaving dead carcasses on the doorstep and wants something in return . . .

Knock And You Will See Me

"We buried dad in the winter. It wasn't until Spring that we heard from him again."

A woman's elderly father passes away and soon after she begins to smell the stench of decay that is followed up with a note written by her dad demanding to know the reason she left him behind. Soon the notes take on an ominous tone. Is she going mad from grief or is it something far more sinister?

You'll have to read it yourownself to find out and it's worth the read. Like all of the stories found here it is unsettling and it may rob you of sleep.

The Rambling Man

This story is only four pages long but it is a disturbing little gem about sacrifice and betrayal and I loved it.

This is an excellent debut and I am looking forward to whatever the author puts out next.
---

Journal Entry
2
by
BarkLessWagMore
at
Little Free Library, Pheasant Lane Mall in Nashua, New Hampshire USA on Tuesday, November 27, 2018
Released 11 mos ago (11/27/2018 UTC) at Little Free Library, Pheasant Lane Mall in Nashua, New Hampshire USA
WILD RELEASE NOTES:

I left this book inside the Little Free Library at the Pheasant Lane Mall in front of Dick's Sporting Goods - lower level. It's horrible outside but the books are safe and warm inside and you can pick yourself up a yummy cinnamon pretzel while you're there.
---

Journal Entry
3
by

GoryDetails

at
Nashua, New Hampshire USA on Friday, December 14, 2018
I was pleased to find this book still in the LFL when I stopped by today to add a few more books. This one looks right up my alley!

Later: I really enjoyed this collection, and will look out for more from this author. There's a nice mix of domestic horror and supernatural horror, and some truly unnerving scenes.

"Did You Forget About Me?" is about a man drawn back to his childhood home after the death of his long-estranged father - only to find that something is still there waiting for him. Some unexpected twists here, with a growing sense of nightmare, built on different types of guilt.


"Hope and Walker" has a very different tone, and deals with a young girl living with her mortician father in a small rural community in the Northern Territory of Australia. She's comfortable with the mortuary business - no fears of caskets or of the deceased clients awaiting tending in the basement; indeed, she finds herself wanting to sketch them while having a final farewell... This is rather sweet, and is a comfort to the survivors. But when the usual set of elderly clients is replaced by a young boy, horrifically attacked and murdered, things change: while Em draws him, she finds that she also hears him, and he wants her to do something for him... My favorite story in the collection, that one has a more upbeat ending than most, and features a lovely set of characters; the relationships are sketched lightly but well, and I enjoyed the story very much.

"The Trade" is a grisly chiller about some thing in the woods that starts presenting beastly offerings to a family - raising the question of what, exactly, it wants, and whether it can be appeased.

"Knock and You Will See Me" is the longest piece here, and a very powerful one, presenting a dilemma for the protagonist/narrator: is she really seeing notes from her months-dead father, asking why she abandoned him in the dark, with the maggots... or is she losing her mind? Since she has three young sons to care for, her fears affect more than herself, and the tension ratchets up as the kids sense something very wrong. Can they detect the haunting (if that's what it is), or are they reacting to their mother's fears? And when the symptoms change from notes to household invasion, what's a mother to do? The premise is thoroughly unnerving, and while the gutsy family does its best to cope (and actually handles things pretty well at the climax), we're left with the fear that it may all start up again somewhere else.

The book closes with "The Rambling Man," a very short fable with a nicely horrifying twist.
---

Journal Entry
4
by

GoryDetails

at
Little Free Library, Revive Recovery Center in Nashua, New Hampshire USA on Tuesday, December 25, 2018
Released 10 mos ago (12/25/2018 UTC) at Little Free Library, Revive Recovery Center in Nashua, New Hampshire USA
WILD RELEASE NOTES:

I left this book in the Little Free Library on this chilly day; hope someone enjoys it!
[See other recent releases in NH
here
.]
*** Released for the
2018 Keep Them Moving release challenge
. ***
---