The Road Through the Wall; Hangsaman; The Bird's Nest (OMNIBUS)
Registered by

perryfran

of
Elk Grove
,
California
USA on 10/30/2018
2 journalers for this copy...

Journal Entry
1
by

perryfran

from
Elk Grove
,
California
USA on Tuesday, October 30, 2018
The Road Through the Wall, Hangsaman, and, The Bird's Nest
by Shirley Jackson

Contains "The Road Through the Wall", "Hangsaman" and "The Bird's Nest"

The Road Through the Wall: Everyone knew the residents of Pepper Street were "nice" people -- especially the residents themselves. Among the self-satisfied group were: Mrs Merriam, the sanctimonious shrew who was turning her husband into a nonentity and her daughter into a bigoted spinster; Mr Roberts, who found relief from the street's unending propriety in shoddy side-street amours; Miss Fielding, who considered it more important to boil an egg properly than to save a disturbed girl from destruction. It took the gruesome act of a desperate boy who lived among them to pierce the shell of their complacency and force them to see their own ugliness.

HANGSAMAN is Miss Jackson's second novel. The story is a simple one but the overtones are immediately present. "Natalie Waite who was seventeen years old but who felt that she had been truly conscious only since she was about fifteen lived in an odd corner of a world of sound and sight, past the daily voices of her father and mother and their incomprehensible actions." In a few graphic pages, the family is before us—Arnold Waite, a writer, egotistical and embittered; his wife, the complaining martyr; Bud, the younger brother who has not yet felt the need to establish his independence; and Natalie, in the nightmare of being seventeen.

The Bird's Nest: Elizabeth is a demure twenty-three-year-old wiling her life away at a dull museum job, living with her neurotic aunt, and subsisting off her dead mother's inheritance. When Elizabeth begins to suffer terrible migraines and backaches, her aunt takes her to the doctor, then to a psychiatrist. But slowly, and with Jackson's characteristic chill, we learn that Elizabeth is not just one girl—but four separate, self-destructive personalities. The Bird's Nest, Jackson's third novel, develops hallmarks of the horror master's most unsettling work: tormented heroines, riveting familial mysteries, and a disquieting vision inside the human mind.
---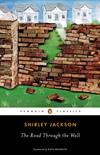 The Road Through the Wall
is Shirley Jackson's first novel. It tells the story of the people residing on Pepper Street in a small town outside of San Francisco in 1936. The people that live on the street are mostly a very unpleasant bunch with Jackson showing the darker side of humanity even in what could be anyone's very quiet neighborhood. The residents are condescending, bigoted, and for the most part mean-spirited. This includes the adults as well as the children living there. For example, they refuse to socialize with the neighborhood's one Jewish family or with a working mother of a disabled child who rents a home on the street. The story has a lot of characters that are sometimes hard to keep track of but Jackson tells the story in a series of short vignettes and her prose makes the story easier to follow for the reader. The novel also has a very chilling ending in the usual Jackson style.
Jackson loosely based the novel on her childhood, growing up in an affluent California neighborhood. She also admitted that she wrote the book, in part, to get back at her parents, whom she resented for their narrow-mindedness and greed, stating that a writer's first novel has to be the one in which they get back at their parents.
I have read a few other novels by Jackson, most recently
WE HAVE ALWAYS LIVED IN A CASTLE
, and have always enjoyed them. Overall, I would mildly recommend this one.
---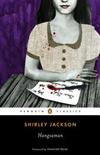 HANGSAMAN is Jackson's second novel, written in 1951. It was partially influenced by the story of
Paula Jean Welden's disappearance
in 1946 from Bennington College in Vermont.
On the surface the novel at first appears to be a coming-of-age story about a seventeen-year-old girl, Natalie Waite, who is about to leave home for the first time and go to college but as the story progresses, it is apparent that all is not as it seems. The first part of the novel takes place at her home before leaving for school and focuses on her parents including her overbearing father who is a writer. The father likes to invite people over to the house on Sunday afternoons to discuss literature among other things. He also criticizes and encourages Natalie's writing. Most of the first section of the book describes a cocktail party where Natalie helps her mother serve the guests. But little odd things occur in Natalie's mind such as seeming to discuss things with a detective and then there is a rather shocking occurrence at the end of the first section. The second part of the book has Natalie at college where she is really scared and a fish out of water. She makes friends with the wife of her English professor and ends up often visiting the couple along with two other college girls where cocktails flow freely. Then the third part of the novel really gets quirky with Natalie obviously descending into a sort of mental hell.
This again was another novel by Jackson where she describes the pains and pressures of life in the middle classes, this time going into the mind of a sensitive young woman going away from home for the first time. There were many aspects of the novel where Jackson leaves it to the reader to determine what was really happening especially in the third section. Overall, another well-written and thought-provoking story.
---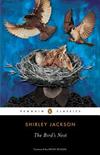 THE BIRD'S NEST is Jackson's third novel written in 1954. It is the story of a young woman, Elizabeth, who has multiple personality disorder. The psychiatrist in the novel, Dr. Wright, gives the four distinct personalities separate names: Elizabeth, Beth, Betsy, and Bess. As the novel opens, Elizabeth is working as a clerk in the local museum. She begins having headaches and backaches and then her Aunt Morgan, who she lives with, discovers that she had gone out late at night with no remembrance of doing so. Her primary doctor refers her to Dr. Wright who begins interviewing her and discovering the different personalities. The narrative goes from Dr. Wright's observation to what happens when "Betsy" decides to go to New York in search of her dead mother. Elizabeth winds up in a hospital where the fourth personality "Bess" emerges who seems to take most of the control.
This novel was very reminiscent of the 1957 movie
Three Faces of Eve
which I remember seeing back in the 60s on TV. I found out there is also a movie based on THE BIRD'S NEST called
Lizzie
. This movie was also made in 1957 so it may have been made as a result of the popularity of Three Faces of Eve. I'll be keeping an eye out for Lizzie, maybe it will turn up on TCM at some point. Anyway, this novel was usual Jackson fare with an unsettling tone throughout. According to Wikipedia, while writing The Bird's Nest, Jackson suffered from insomnia, backaches, and paranoia, symptoms similar to those the main character of the novel is afflicted with. Also Jackson was interested in the subject matter because she thought many personalities were contained within herself.
---

Journal Entry
5
by

perryfran

at
Wishlist Tag Game , A Bookcrossing member -- Controlled Releases on Monday, November 12, 2018
Released 1 mo ago (11/12/2018 UTC) at Wishlist Tag Game , A Bookcrossing member -- Controlled Releases
CONTROLLED RELEASE NOTES:
This one is off to GoryDetails as a wishlist tag. Hangsaman was on her wishlist. Not sure if you have read the other two novels. All of them are pretty unsettling in Jackson's fashion. Enjoy!
---

Journal Entry
6
by

GoryDetails
at
Nashua, New Hampshire USA on Friday, November 16, 2018
The book arrived safely today, despite last night's snowstorm - many thanks! I adore Jackson's work, and have wanted to try her earlier novels. Looking forward to reading these!
tbr
[There's a
TV Tropes page
on Jackson and her work, with some entertaining tidbits.]
---