Feast of Lights
2 journalers for this copy...
Today my husband and I needed to go to our neighbouring city, Guelph, and we stumbled upon a HUGE book sale while we were there! This is one of the books we brought home.

I thought this book looked interesting, and I have been doing some delving into my/my husband's own family history in conjunction with a remembrance project I am working on, so I figured this would be fun to read. I expect that I will read it and pass it on when I'm done.

ETA: It seems that this is the first copy of this book registered on bookcrossing! It's always kind of cool when that happens :)
---
Journal Entry
2
by
JessicaEby
at
Cambridge, Ontario Canada on Friday, November 09, 2018
For the most part, I enjoyed this book. It held my interest well and I liked its format, so I read through it pretty quickly.

I thought the book seemed a little bit dated because of its technological references, but I've found that's often true since tech became more a part of our every day lives. It works its way into our stories more, and it changes quickly, so the stories seeming dated in a relatively short period is probably inevitable. I also had a hard time with the author's views on the relationship between Anne Frank and Peter Van Daan (Peter Van Pels). That's quite a minor part of this story really, but it's something I have strong feelings about/views on, so it stuck out to me.

Anyway, all in all it was an interesting and enjoyable book to me. I don't know yet when/where I'll release this one.
---
Journal Entry
3
by
JessicaEby
at
Gage Park in Brampton, Ontario Canada on Sunday, December 02, 2018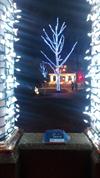 I released this book at Gage Park while viewing the holiday lights with my husband. As tonight is the first night of Hanukkah I figured it would be a good time to release this, and since Hanukkah is "the feast of lights" I thought a holiday light display was a fitting place to leave it. Happy Holidays to whoever finds this (whichever one/ones you're celebrating)!
If you've found this book, thanks for picking it up and checking out its journal! If you're new to bookcrossing, welcome. We'd love it if you'd stick around with us a while. I really hope that you enjoy both this book and the whole bookcrossing experience!
This book was released as part of the 2018 "52 Towns in 52 Weeks" Release Challenge. Brampton was Town #46 for me!
---

Journal Entry
4
by

AnonymousFinder

at
Brampton, Ontario Canada on Thursday, December 06, 2018
Read this book a few years ago and stumbled upon it while visiting Gage Park in Brampton! I thought this time of year was perfect for sharing it with people across the country, so I brought it home with me to Fort McMurray, Alberta. Hopefully someone finds it and enjoys it as much as I did.
---