Echt gigantisch, dat heelal
5 journalers for this copy...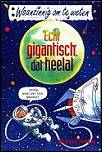 Leuk boek met grappige cartoons tussendoor. Het boek is bedoelt om iets te leren over de ruimte.
De flap:
Het begon met de oerknal en sindsdien dijt het heelal steedsverder uit. Zo is onze melkweg geboren. Nu suizen we met z'n allen op lichtsnelheid door de ruimte, samen met miljarden andere planeten, sterren, meteoren, satellieten, kometen, meteorieten en wie weet wat nog meer.
---
Journal Entry
2
by
boekenwurmpie
at
OBCZ The BookLet in Amsterdam, Netherlands -- Controlled Releases on Sunday, April 11, 2004
Released on
Saturday, April 10, 2004
at
OBCZ The BookLet
in Amsterdam, Netherlands Controlled Releases.
Weggegeven op de meeting.
---

Journal Entry
3
by

AnonymousFinder

on Saturday, April 17, 2004
het is een leuk boek met erg grappige feiten over de ruimte.

CAUGHT IN LELYSTAD FLEVOLAND NETHERLANDS
---
Gelukkig gingen we op het laatst toch nog even bij de boekentafel kijken, want deze serie wordt hier in huis erg gewaardeerd. Ik denk dat het boek mee op vakantie naar Turkije gaat. Zonder computer in de buurt, wordt de leeshonger altijd een stuk groter!
---
En jawel, op vakantie werd er regelmatig naar het boek gegrepen en kregen wij, ouders, weer allerlei weetjes te horen. Want zo'n boek is het: zo eentje waaruit je steeds wilt citeren. 'Jongens, wisten jullie al dat...' Het boek mag weer verder reizen, misschien ga ik vanavond nog wel even naar de mini-meeting in Hilversum. Dan laat ik het daar achter.
---
AnnevO wil dit boek graag lezen. Het reist dus weer verder.
---

Net binnen, en ik heb de eerste 30 pagina's al gelezen. Zo staat er op pagina 22: "Zonsverduisteringen zijn zo spectaculair dat sommige mensen de hele wereld rondreizen om ze te zien...Dus als jij ooit de kans krijgt een zonsverduistering te zien, zorg dan dat je hem niet mist!"

En dat is dus waarom dit boek mee gaat op vakantie. Dank je wel MaaikeB.
---

Wat een ontzettend leuk boek! Ik heb het gelezen als een soort Astronomie voor dummies en heb me goed vermaakt.

En inderdaad, zo'n zonsverduistering is ontzettend indrukwekkend.
---

Dit boek is gereserveerd voor Yinny, die het uit de AVL-relay haalde.
---
Ik heb het boekje vandaag ontvangen uit de handen van AnnevO op de Gouda meeting. Leuk!
---