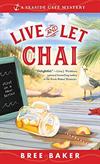 Live and Let Chai
1 journaler for this copy...

Book #1 in the Seaside Cafe Mystery series:

The first book in a delightful new beachside cozy mystery series!

Trouble is brewing in Everly's new cafe. Can she bag the culprit?

Life hasn't been so sweet for Everly Swan over the past couple of years, but now that she is back in her seaside hometown and the proud owner of a little iced tea shop and cafe right on the beach, things are finally starting to look up - until a curmudgeonly customer turns up dead on the boardwalk. With one of her hallmark glass tea jars lying right next to him and an autopsy that reports poison in his system, it doesn't look good for Everly or her brand new business.

As the townspeople of Charm, formerly so welcoming and homey, turn their back on Everly, she fights to dig up clues about who could have had it in for the former town councilman. With a maddeningly handsome detective discouraging her from uncovering leads and a series of anonymous attacks on Everly and her business, it will take everything she's got to keep this mystery from boiling over.

My Review: This was such a fun book! I haven't read anything by this author before, but I will definitely look for more. The main character is sweet, sassy, and mostly smart. There were a few times I was saying "NO, don't do that!" But it's a very entertaining series and there are lots of fun characters. I loved that they talked about "Little Libraries" in the story, they sound exactly like Little Free Libraries. I love Little Free Libraries and share most of my wild releases through them.

Reserved for DVG, she enjoys these cozy mysteries, I think she might like this one.
---