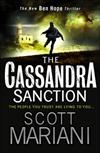 The Cassandra Sanction
Registered by

Delphi_Reader

of
Δελφοί - Delphi
,
Fokida
Greece on 9/15/2018

This Book is Currently in the Wild!
2 journalers for this copy...

Journal Entry
1
by

Delphi_Reader

from
Δελφοί - Delphi
,
Fokida
Greece on Saturday, September 15, 2018

This book starts its journey with BookCrossing from Delphi, Greece
~~~~~~~~~~~~~~~~~~~~~~~~~~~~~~~~~~~~~~~~~~~~~~~~~~~
" A TRAGIC DEATH. A GRIEVING BROTHER.
A PLOT TO DECEIVE THE ENTIRE WORLD
Ex-SAS major and kidnap recovery specialist Ben Hope is looking for peace in a quiet Spanish town. What he gets instead is the kind of trouble that only a man like him can handle.
Raul Fuentes can't accept that his sister, Catalina, took her own life. Ben isn't convinced, but ghosts from his own past compel him to help Raul discover the truth.
What connects Catalina's apparent suicide to the suspicious fate of three of her fellow scientists? And why do a gang of professional killers follow Ben and Raul wherever they go?
Ben will soon discover the terrible truth: a fraudulent conspiracy to dupe all of humankind. And those responsible will soon find out they've met their match."
~~~~~~To the person who found this book:~~~~~~
Welcome to BookCrossing.com, where we are trying to make the whole world a library!
If you have not already done so, please make a journal entry so we know this book has found a new home. Drop a few lines on where and how you found this book and what you thought of it. You don't need to join BookCrossing and you can remain completely anonymous. However, I encourage you to join so that you can follow this book's future travels. It's fun and free, and your personal information will never be shared or sold.
This book is now yours, and you can keep it if you choose, although I would love you to read and then share it. You can pass it on someone you know or release it once again in the wild, leaving it on a park bench, a phone booth, a hostel lobby...wherever you think it's suitable for the book to continue it's journey. If you pass it along, please make a release note to let others know where you left it.
I hope you enjoy the book!
---

Journal Entry
2
by

Delphi_Reader

at
Δελφοί - Delphi, Fokida Greece on Friday, July 05, 2019

Originally my rating would be something like 3-4 stars at most, but I think this would be unfair, because The Cassandra Saction is a kind of book that in general I dislike. I found it by chance and I read it as a break among other stuff and surely it was full of hyperbole, tons of armoury, violence, car chases, secret conspirancies, huge rich, stereotypical characters, ridiculous plot. Other people like this stuff, but I don't.
Furthermore I see it's the 12th in a series and some references about our hero's, Ben Hope's past didn't make sense.
Within its genre I guess it was OK, but I still think that authors should try to make their characters at least a bit more believable. There were many silly characters and coincidences at the start of the book, but let's say it was ok-ish till then. Half way through it got far too ridiculous, for example Raul, a teacher and a solar scientist's brother hadn't even heard of sunspots or solar wind? I don't expected him to know all kind of science about these, but at least to have heard the terms before? I'm just a random person in tourism industry with humble hotel management studies and I do know these terms! And then the plot got even more downhill from this point. I don't want to write spoilers, but the bad guys had means to achieve their purposes without all this mess around. The premise was not only far-fetched but well...ridiculous. Furthermore, is it so hard to have a main character a liiitle bit more down to earth and plausible?
The ending didn't seem much of a conclusion to me either. And again it was full of cliche.
Not my type of book, did I say that?
Of course this doesn't mean that it isn't someone else's type of book! So I'll get it on the move soon : )
---

Journal Entry
3
by

Delphi_Reader

at
OBCZ RABCK, --by post or by hand (ie ring, ray, RABCK, trade) -- Controlled Releases on Thursday, July 11, 2019
Released 1 mo ago (7/11/2019 UTC) at OBCZ RABCK, --by post or by hand (ie ring, ray, RABCK, trade) -- Controlled Releases
CONTROLLED RELEASE NOTES:
---

Arrived safely today, will be taking it down to the OBCZ on Friday
---

Journal Entry
5
by

Abi-Gibby

at
Jury's Inn in Plymouth, Devon United Kingdom on Thursday, July 18, 2019
Released 1 mo ago (7/22/2019 UTC) at Jury's Inn in Plymouth, Devon United Kingdom
WILD RELEASE NOTES:
Congratulations, you have picked up a travelling book!
If you have a moment, we'd love you to let us know you have the book as we're keen to follow its journey. You can even post a review when you've read it before passing it on to the next lucky person.
Happy reading!
Not sure what to do? Follow these steps!
1) You may continue as an Anonymous Finder. Or, Register as a member , then you too will receive future journal entries on this book and track its journey around the world!
2) Make a journal entry on this book to let us know how you found it!
3) If you choose to read the book, please make another journal entry when you finish it to let us know what you thought!
4) Ready to pass the book on? Click on "make release notes" to let us know where it's going! Leave the book in a public place or give it to a friend!
***Please Note***
When re-releasing this book please be aware that airports are not a good place to leave books unless they have a specific book exchange shelf or area, due to security problems, so they may well just be disposed of.
**** Also charity shops may well discard books that have been labelled in any way and they mostly chose only the books in the very best condition to place on their shelves and discard the rest-so another bad release option. ****
---