A Farewell to Arms
2 journalers for this copy...
Yesterday my husband and I went out with some friends in Mississauga. We found ourselves in Chapters at Square One, where there was some classic literature on sale. They had a copy of another book that I'd been looking for, so I decided to pick that up, and as the classics were $6 each or 3/$10, it was decided that I may as well grab a couple more. This copy of A Farewell to Arms was one of the other two that I picked up! It's a classic that I've never read, and it seems like I probably should have read it by now, so here it is! It's now in my ever-growing To Be Read pile!
---
Journal Entry
2
by
JessicaEby
at
Cambridge, Ontario Canada on Wednesday, October 03, 2018
I have now read this book.

I knew that this book was set during the First World War and that era sort of dominates a lot of my life right now as I'm currently working on a project that marks the centenary of the Armistice, so I thought it would be a good time to read this.

I really did not enjoy this book. I always feel bad when I say things like that in a book's journal, but it's true. I didn't like Hemingway's writing style, and I didn't like the story, and I didn't like most of the characters. I'm glad that I read it because it is a classic-- it's generally considered an important work and now I am familiar with it-- but I didn't enjoy this one. I will release it at some point and hope it finds a reader for whom it's a better fit!
---
Journal Entry
3
by
JessicaEby
at
Paris Cenotaph in Paris, Ontario Canada on Saturday, November 10, 2018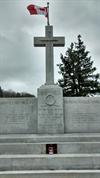 As tomorrow marks 100 years since the Armistice effectively ended the First World War, I am releasing some WW1 related books at war memorials this weekend. I left this one in Paris this morning, propped up on the steps of the cenotaph.
If you've found this book, thanks for picking it up and checking out its journal! If you're new to bookcrossing, welcome. We'd love it if you'd stick around with us a while. I really hope that you enjoy both this book and the whole bookcrossing experience!
This book was released as part of the 2018 "52 Towns in 52 Weeks" Release Challenge. Paris was Town #41 for me!
---
I found this book at the Paris Cenotaph on the day before Remembrance Day. I'm leaving for the Caribbean in the morning and decided to bring the book along to read . If I get through the book I'll leave it for someone else to enjoy. I've always wanted to read a Hemingway book so I guess now is my chance. I know that the book centers on the First World War ..a war that my grandfather was lucky enough to come home from having served at Passchendaele . So perhaps the book will give me some insight into some of the things he had to endure.
---