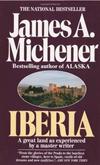 Iberia
1 journaler for this copy...
This travelogue was published in 1968, the year I was born! I bought it before going to Spain as an exchange student during my university years. Some of it was obviously very out-of-date by then, but it still felt worth reading for history, geography, and such.

I wrote my then-address into the front cover - Diagonal 643, 08028 Barcelona,
the Col-legi Major (Colegio Mayor) Montserrat y Penyafort - www.penyafort.ub.edu

One line I remember well is said by a Barcelona publisher (p. 668): Catalans read. They're the Bostonians of Spain. I loved that! The context was this: 'Of our thirty-four million population, thirty-one million read Spanish and they will buy three thousand copies of a book. Only three million read Catalan, but they will also buy three thousand copies of a book published in Catalan.'

Here's another of the passages I still remember (p. 680):

In Barcelona books are important, but music is king. My wife and I discovered this when we wanted to attend the opening of the opera at the famous Liceo, which stood just down Las Ramblas from where we were staying. 'We can get you tickets but they'll be dreadfully expensive,' the government official said, and I nodded. Then he frowned. 'But I'm afraid that even if you're willing to pay, it won't do much good, because you norteamericanos don't travel with dress suits.' I said I didn't have one, and he shrugged his shoulders. 'I could get you the tickets, but without a dress suit they wouldn't allow you in.' I explained that we would be happy to sit upstairs in one of the balconies, and he said, 'Apparently you don't understand. This is the opening of the opera. All Cataluña will be there. And the people in the balconies are more meticulous about their dress than those downstairs.' It was impossible for us to enter the building, so we went like peasants to stand in Las Ramblas and watch the limousines arrive with the great of the region, and although we had attended opera in most of the fine houses of the world, and sometimes under rather gala conditions, we had never witnessed anything like this. The dress was impeccable, the excitement intense and there must have been a couple of thousand of us in the street, watching the entry of the Catalans into the Liceo.
---