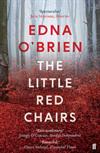 The Little Red Chairs
Registered by
silverbirch7
on 8/12/2018

This Book is Currently in the Wild!
3 journalers for this copy...
An amazing book but, be warned, it becomes very, very dark after the initial poetic chapters have lulled you into a false sense of security.
---
Journal Entry
2
by
silverbirch7
at
Edinburgh Book Festival in Edinburgh, Scotland United Kingdom on Sunday, August 12, 2018
Released 3 yrs ago (8/12/2018 UTC) at Edinburgh Book Festival in Edinburgh, Scotland United Kingdom
WILD RELEASE NOTES:
Released at Old Gang meet up at Edinburgh Book Festival
---

Caught at the Bookfest meetup, thank you.

Ooh, fancy yellow label :-)
---

A very powerful and though-provoking novel about how humans try to recover and move on after tragedy, and the necessity of opening our hearts to what has happened in the past.

It has an unusual structure. Most stories would have ended at the gruesome point which launches this one in earnest. I struggled to see where the plot was going for a while. In fact, right until the end I had very little sense of the path I'd been taken on as a reader. But it was both brutal and beautiful. Some sections didn't capture me as much as others. Sometimes the writing was overly poetic for my tastes. But it made me more aware of the trauma that lies behind so many migrant and refugee stories. A very worthwhile read.
---

Sent away as a Virtual Convention rabck for a fellow bookcrosser.
---

Journal Entry
6
by

Delphi_Reader

at
Δελφοί - Delphi, Fokida Greece on Thursday, April 29, 2021

Thank you very much LittleSuz! The Little Red Chairs and your cute card arrived in Delphi safely today. Thank you silverbirch7 too for registering and sharing this book.
BookCrossers are generous people!
Usually I enjoy Irish authors, let's see what I'll make of that one, who seems to get positive feedback...
---

Journal Entry
7
by

Delphi_Reader

at
Δελφοί - Delphi, Fokida Greece on Friday, July 2, 2021

I think that this novel tried to touch on many important themes, but somehow the narration and characters were off. The poetic/lyric language used by Edna O'Brien -and that many Irish authors seem to be experts on and fond of- is certainly very beautiful but I felt it was somehow out of place for a book on this subject matter.
Furthermore, I think something about the characters was off, too stereotypical but too superficial and weird too, while I felt that many points of view especially at the start were irrelevant. There is not much effort spent to explain the relationships shaped among the characters either. Later on there is much telling rather than showing and many plot twists that aren't convincing and don't make any sense. The end as with tons of parts of the book was too poignant.
All that said, while the pace of the book was varied and unequal and some chapters captivated me more than others, I think this is a book worthing to be read. I finished it in two afternoons and I "liked" parts of it. All in all, while not great it was decent and maybe more importantly, I see this was published on 2015 and reminds us of things that should never be forgotten!
---

Journal Entry
8
by

Delphi_Reader

at
-- Somewhere in town in Athens - Αθήνα, Attica Greece on Tuesday, July 27, 2021
Released 2 mos ago (7/28/2021 UTC) at -- Somewhere in town in Athens - Αθήνα, Attica Greece
WILD RELEASE NOTES:
---