And the Mountains Echoed
4 journalers for this copy...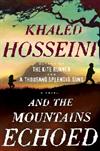 Presents a story inspired by human love, how people take care of one another, and how choices resonate through subsequent generations. Afghanistan, 1952. Abdullah and his sister Pari live with their father and step-mother in the small village of Shadbagh. Their father, Saboor, is constantly in search of work and they struggle together through poverty and brutal winters. To Adbullah, Pari, as beautiful and sweet-natured as the fairy for which she was named, is everything.
---
Journal Entry
2
by
AnonymousFriend
at
SI Cafe in Templestowe, Victoria Australia on Tuesday, October 30, 2018
Release #226 for 2018 ...
---
---
This is a beautifully written ode to siblinghood and all the joys and heartbreaks that come with it - the anguish of separation, the guilt of envy, the comfort of companionship and the burden of responsibility. Hosseini skillfully weaves multiple narratives in multiple time-frames spread across several different countries, all connected by a common link to Afghanistan.
Well worth reading.
---
Journal Entry
5
by

marmee463

at
Queen Street Rescue in Melbourne CBD, Victoria Australia on Monday, January 14, 2019
Released 2 yrs ago (1/14/2019 UTC) at Queen Street Rescue in Melbourne CBD, Victoria Australia
WILD RELEASE NOTES:
On to the shelves.

To the finder of this book -
Please let me know it is in safe hands by journalling that you have caught it, you are under no obligation to read it and Bookcrossing is completely anonymous.
---

I stopped for a tea in between 2 jobs this morning at Queen Street Rescue and came across this novel which I have been meaning to read for ages. Up on Mt TBR it goes...
---

This is the third novel from Khaled Hosseini, his first two being both remarkable best sellers. It didn't disappoint me and it was a good surprise to discover that he was trying a different type of narration (multi-viewpoints). I felt it had a lot of interesting characters, all revolving around Afghanistan and its bloody recent history. The plot and sub-plots kept me going and it was definitely an unputdownable read, but maybe not as confronting as it could have been. It's still a great well-written story and I certainly was right to catch it 2 years ago! It's now ready to travel again.
---

Journal Entry
8
by

Jean-Sol

at
La Camera in Melbourne CBD, Victoria Australia on Friday, February 26, 2021
Released 1 mo ago (2/28/2021 UTC) at La Camera in Melbourne CBD, Victoria Australia
WILD RELEASE NOTES:
To be released at our first Melbourne meetup since the lockdown!
---

I took this away from our first meetup in a year, only to discover I had already read this book! Here is what I thought when I read this book six years ago.
"I love the writing of Khaled Hosseini! A very sad story about a young Afghani girl who is sold into adoption because her family were too poor to bring her up. Adopted into a wealthy but dysfunctional family, Pari leads a privileged life, whilst all the while feeling something is missing in her life.The story moves through different characters through the generations until all the characters and all the stories reach a conclusion. The only disappointment to me and the reason I gave the book 8* instead of 9 or 10*, was the continual switching of characters from one paragraph to the next, as it took me a few lines each time to realise we were in a different era with a different character".
---