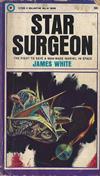 Star Surgeon
Registered by

hyphen8

of
Honolulu
,
Hawaii
USA on 8/4/2018

This Book is Currently in the Wild!
2 journalers for this copy...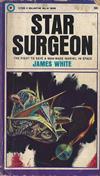 This is not an ordinary book: it's a
BookCrossing
book! BookCrossing books are world travelers - they like to have adventures and make new friends...and every once in a while they even write home to say what they've been doing.
~ ~ ~ ~ ~ ~ ~
I love James White's Sector General stories, and have had this venerable paperback (with its 50¢ cover price) on my shelf for many years. I'm only able to convince myself to give it up because I have an omnibus edition which contains this volume.
Here's
another copy
on my BookCrossing shelf.
---

Monday, August 06, 2018: headed for New Hampshire as a
wishlist tag
.
Enjoy!
USPS tracking # 9549 0104 3304 8218 3991 96
ETA 8/27
~ ~ ~ ~ ~
I'm so glad you've found this book!
Please take a moment to make a journal entry and let this book's previous readers know that it's safe with you.
How and where did you find the book? What did you think of it? What are you going to do with it next?
It's now your book, for you to do with as you please: keep it, pass it to a friend, or maybe even leave it where someone else can find it!
If you've ever wondered where your books go after they leave your hands, join BookCrossing and you may find out: you'll be able to follow your books as new readers make journal entries - sometimes from surprisingly far-flung locations.
BookCrossing: making the whole world a library!
---

Journal Entry
3
by

GoryDetails

at
Nashua, New Hampshire USA on Friday, August 24, 2018
The package containing these two "Sector General" books from my wishlist arrived safely today - many thanks! I'd enjoyed a couple of other "Sector General" books, including
Hospital Station
, and wanted to read more of this series about a huge interstellar hospital where the staff has to be able to treat beings of many shapes, sizes, and needs. Glad to add these titles to the list!
Later: This was a bit of a departure from the other books I've read - it's one complete story rather than the collection-of-cases format - but I enjoyed it anyway. It starts with the challenge of trying to treat a being that turns out to be effectively immortal, and which is from a species that roams through space seeking out suitable inhabited worlds to help advance - though as the story progresses we learn more about the nature of all this, and the focus shifts from the immortal to more pressing concerns: galactic war!
Yep, the usually-peaceful situation turns into a very nasty conflict, spurred by a small but aggressive empire that has its own agenda re the immortal-being and the planet Etla, with its humanoid aliens visually indistinguishable from Earthlings. Indeed, much of this story felt a lot like a "Star Trek" episode, and could easily have inspired one, up to and including the eventual and late-breaking solution to the conflict. But along the way we see the war from the viewpoint of the hospital staff, mainly Conway, who gets to help oversee the evacuation, deal with the patients who can't be moved, and then treat the victims of the escalating war - including the enemy, the treatment of whom eventually tip the balance in favor of our guys. Oh, and Conway's romance with Murchison becomes quite explicit here, a rarity for the series - though even here, any attempts at alone-time tend to be interrupted by the needs of the job, which both of them place above all else (even if they don't always like it).
One of my favorite bits involved damage to the hospital's universal-translator, without which the many species (both staff and patients) become unable to communicate at all. Conway's method of dealing with this is very risky, sometimes hilarious, and sufficiently effective that it lets the staff cope fairly well - and it's a plot-point that I wish had turned up in "Star Trek," which tended to rely absolutely on its never-failing translation technology. [One "Star Trek" feature that would have made life a lot simpler for the "Sector General" folks: "Star Trek" had transporter technology, while "Sector General" does not. This means that traveling between different areas might involve donning and doffing elaborate protective gear, swimming, plodding through extreme heat or cold or noxious gasses, and generally taking a lot of time - all part of the plot when evacuation or emergency access is involved.]
Another enjoyable entry in this remarkable series!
[There's a
TV Tropes page
on the series, with some entertaining tidbits.]
The series, in order of publication:
Hospital Station
Star Surgeon
Major Operation
Ambulance Ship
Sector General
Star Healer
Code Blue - Emergency
The Genocidal Healer
The Galactic Gourmet
Final Diagnosis
Mind Changer
Double Contact
---

Journal Entry
4
by

GoryDetails

at
The Mill in North Chelmsford, Massachusetts USA on Thursday, September 20, 2018
Released 2 yrs ago (9/20/2018 UTC) at The Mill in North Chelmsford, Massachusetts USA
WILD RELEASE NOTES:

I left this book, bagged against the elements, on a bench at The Mill, a renovated mill hosting a variety of businesses and a restaurant. The bench overlooks the river, which runs under a handsome railroad bridge. Hope the finder enjoys the book!
[See other recent releases in MA
here
.]
*** Released for the
2018 Keep Them Moving release challenge
. ***
---