War Nurse: A Second World War Girl's Diary, 1939-1940 (My Story)
3 journalers for this copy...
I bought this book at a local charity shop in 2016. In 2017 I was doing a sesquicentennial project involving Canadian literature, so this book has been sitting in a drawer from the end of 2016 until this week, but now I've taken it out!

I've had a lot of time to kill this week, so I have read 4 of these books in 4 days. If I can keep that pace with this one, I'll be caught up with all the ones I have by the end of the weekend, lol!
---
Journal Entry
2
by
JessicaEby
at
Cambridge, Ontario Canada on Sunday, July 22, 2018
All caught up!

I've always been very interested in Second World War history, and this is a part of it that I haven't read much about before, so I'm really glad to have read this book.

I'm not sure just yet when/where I will release this, but I will probably hang on to it for a little while first.
---
Journal Entry
3
by
JessicaEby
at
War Memorial Park in Brantford, Ontario Canada on Saturday, November 10, 2018
Released 2 yrs ago (11/10/2018 UTC) at War Memorial Park in Brantford, Ontario Canada
WILD RELEASE NOTES: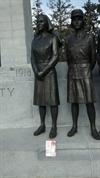 As Remembrance Day this year marks the centenary of the Armistice I am mostly releasing books related to WW1 this weekend, but I made an exception for this book. I tried to leave it at Brantford's big, beautiful cenotaph earlier in the year but that didn't work out, and I was finally able to release the book today. My husband and I spent some time exploring this impressive local war memorial, and when we were ready to go I left this book behind in a protective bag, propped up in front of the statue of the nurse. I just had to leave this book there because the girl on the cover of the book looks so much like the nurse depicted in the statue, posed almost exactly the same way.
If you've found this book, thanks for picking it up and checking out its journal! If you're new to bookcrossing, welcome. We'd love it if you'd stick around with us a while. I really hope that you enjoy both this book and the whole bookcrossing experience!
This book was released as part of the 2018 "52 Towns in 52 Weeks" Release Challenge. Brantford was Town #43 for me!
---
Journal Entry
4
by
Wjr1
at
-- Somewhere in Brantford in Brantford, Ontario Canada on Sunday, December 30, 2018
Released 2 yrs ago (12/30/2018 UTC) at -- Somewhere in Brantford in Brantford, Ontario Canada
WILD RELEASE NOTES:
Good read
---

Journal Entry
5
by

AnonymousFinder

at
Brantford, Ontario Canada on Friday, February 22, 2019
A great read, found it hard to put down
---