Judgment on Deltchev
Registered by

souram

of
Genève
,
Genève
Switzerland on 7/16/2018

This Book is Currently in the Wild!
1 journaler for this copy...

A trial in Bulgaria ?
---

need room. releases up.
Bulgaria wasn't a lucky country. As a tiny Balkan kingdom, Bulgaria tried to keep building an Identity for 30 years, from 1878 to 1908. The country could find a path away from Istanbul with Russian military help in 1877-1878 (battle of Shipka Pass, etc.) To avoid humiliating Turkey, Bulgaria had to formally remain a satellite kingdom accepting an allegiance towards the Sultan. This link was broken in 1908 as Union and Progress Party (the "Young Turks") seized power.
Soon afterwards, a Bulgarian king made a bad choice. He joined the alliance of the Central Powers in WW I. So Bulgaria couldn't avoid defeat in 1918 (remember "Capitaine Conan" by Roger Vercel, a novel about the French Balkan war)
Boris the IIIrd had an ambition to lead his country to modernity. He pro forma signed the Antikomintern Pact with the Nazis but he refused to send the Bulgarian Jews to the Third Reich. Hitler went mad every time someone spoke about Boris III. So Boris III died in mysterious circumstances in 1943 (poisoned ?)
Simeon became the virtual king but he was far too young to reign. He fled away as the Communists came to power in 1946. Bulgaria lived for 43 years under Soviet-friendly rule. In November 1989, Todor Zhivkov, the long-lived secretary-general of the Communist Party, was removed from power at the age of 77.
Since 1989: Bulgaria tries to reach transparency and democracy, even by joining the EU, but the political class is still vulnerable to corruption.
---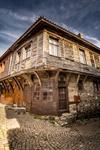 Il ne t'est jamais donné de rêve sans le pouvoir de le réaliser
. (Richard Bach)
Eh bien, vous avez découvert quelque chose...
Un livre abandonné exprès !
N'ayez pas d'hésitation: donnez votre avis, ou racontez votre découverte, cela nous plaît de savoir ce que deviennent les livres "libérés" ainsi.
Elias Canetti was a Bulgarian-born writer. He died in Zurich and was buried there in 1991. This Jewish writer became famous when he published "Die Stimmen von Marrakesch", The Voices of Marrakesh set in Morocco.
---