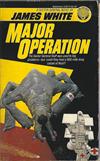 Major Operation
Registered by

hyphen8

of
Honolulu
,
Hawaii
USA on 8/4/2018

This Book is Currently in the Wild!
2 journalers for this copy...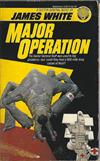 This is not an ordinary book: it's a
BookCrossing
book! BookCrossing books are world travelers - they like to have adventures and make new friends...and every once in a while they even write home to say what they've been doing.
~ ~ ~ ~ ~ ~ ~
This is a 1986 edition, which means it was probably fairly new when I first discovered James White and Surgeon General and was busily trying to find copies of all of his books. It's been hanging out at my house for a long time, so I think it's time for it to stretch its legs a bit. I have an omnibus edition - Beginning Operations - which includes the first three Sector General books, so I'm telling myself I need to let this one go...
Here's
another copy
on my BookCrossing shelf.
---

Monday, August 06, 2018: headed for New Hampshire as a
wishlist tag
.
Enjoy!
USPS tracking # 9549 0104 3304 8218 3991 96
ETA 8/27
~ ~ ~ ~ ~
I'm so glad you've found this book!
Please take a moment to make a journal entry and let this book's previous readers know that it's safe with you.
How and where did you find the book? What did you think of it? What are you going to do with it next?
It's now your book, for you to do with as you please: keep it, pass it to a friend, or maybe even leave it where someone else can find it!
If you've ever wondered where your books go after they leave your hands, join BookCrossing and you may find out: you'll be able to follow your books as new readers make journal entries - sometimes from surprisingly far-flung locations.
BookCrossing: making the whole world a library!
---

Journal Entry
3
by

GoryDetails

at
Nashua, New Hampshire USA on Friday, August 24, 2018
The package containing these two "Sector General" books from my wishlist arrived safely today - many thanks! I'd enjoyed a couple of other "Sector General" books, including
Hospital Station
, and wanted to read more of this series about a huge interstellar hospital where the staff has to be able to treat beings of many shapes, sizes, and needs. Glad to add these titles to the list!
Later: This book's more of a novel than an anthology, though each of the "chapters" has a self-contained story-arc. But the whole thing does spin out into a wildly elaborate attempt to make contact with an as-yet-unidentified intelligent species on a planet that seems to consist in part of a land-mass-sized being that's badly in need of medical care. There are loads of hilarious quips and snarks from the main characters (human and otherwise), and some ingenious kludges in both the engineering and medical portions of the story, along with White's typically inventive look at supremely-non-terrestrial lifeforms and how they might have evolved to be the way they are.
This book also gives Murchison more page-space. She was introduced as a nurse, and eventually a love-interest of Conway's, though the stories always underplay the private lives of the characters. By this book, Murchison's become a pathologist (a late-breaking advance by White; given his open-mindedness about the various alien species it always seemed odd that the Earth characters were nearly all men) and is married to Conway, leading to some really fun snark-debates between them when they face a dangerous situation.
There are more casualties in this story than in many of the others, quite a few of them taking place once treatment of the continent-sized (and hostile) patient has begun; while everyone involved realized the likelihood of this going in, it still takes its toll.
There were a lot of passages here that made me laugh out loud - and a few that got me a bit sniffly. Another entertaining entry in this ever-imaginative series. I would dearly love to see a decent film or TV series based on this; modern CGI would make it possible, and it has the lively plotting and sparkling dialog to make viewing worthwhile.
[There's a
TV Tropes page
on the series, with some entertaining tidbits.]
The series, in order of publication:
Hospital Station
Star Surgeon
Major Operation
Ambulance Ship
Sector General
Star Healer
Code Blue - Emergency
The Genocidal Healer
The Galactic Gourmet
Final Diagnosis
Mind Changer
Double Contact
---

Journal Entry
4
by

GoryDetails

at
Dunstable Common (see release notes for details) in Dunstable, Massachusetts USA on Friday, September 07, 2018
Released 2 yrs ago (9/7/2018 UTC) at Dunstable Common (see release notes for details) in Dunstable, Massachusetts USA
WILD RELEASE NOTES:

I plan to leave this book, bagged against the elements, in a tree near the bandstand on the common; hope someone enjoys it!
[See other recent releases in MA
here
.]
*** Released for the
2018 Keep Them Moving release challenge
. ***
*** Released for the
2018 You're Such an Animal
release challenge, for the embedded "rat" in the title. ***
---