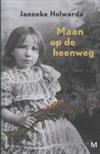 Maan op de heenweg
Registered by

janna2
of
Castricum
,
Noord-Holland
Netherlands on 6/24/2018
3 journalers for this copy...

Journal Entry
1
by

janna2
from
Castricum
,
Noord-Holland
Netherlands on Sunday, June 24, 2018
Gekregen om te crossen.


Recensie(s)
In deze tweede roman van de schrijfster (1953) na 'Zeesteen' (2010) gaat het om Dirkje die zolang ze zich kan herinneren, probeert haar aan alcohol en mannen verslaafde moeder op het rechte pad te helpen. Op de dag dat er een zusje wordt geboren, vertrekt Dirkjes vader. Dit zusje wordt Dirkjes beschermeling - niemand anders immers zorgt voor haar. De wereld kijkt koud toe, al zijn er goede geesten in dit verhaal, zoals de drieling: speelkameraadjes, altijd gelijk gekleed, gelijk van tekst, gelijkelijk kalm en luisterend, ze zijn er als Dirkje hen nodig heeft. 'Hun wangen zijn zacht als satijn.' En er is oma, haar moeders moeder. Dirkje heeft warme herinneringen aan haar en aan de Indische bediende Resort, die Dirkje 'semangat' gaf, kruiden die haar de noodzakelijke innerlijke kracht moeten geven. Korte zinnen en poëtische beelden tekenen de gang naar bevrijding, een onvermijdelijke uitkomst omdat er anders geen perspectief kan zijn. De auteur heeft blijkens het naschrift met dit boek 'het kind dat mijn moeder is geweest een stem willen geven.'. Kleine druk, leeslint.
Drs. H. Griffioen
---

Prachtig boek, misschien qua inhoud niet zo bijzonder, maar qua taal geweldig: compacte zinnen, geen woord te veel of te weinig. Genieten!
Ik reserveer dit boek voor een mede-crosser!
---

Oehoeboeroe heeft het al uit, zo mooi!
Ik krijg het t.z.t. weer terug, nog even in huis houden of misschien doorgeven. Dát weet ik nog niet zeker.

---

Journal Entry
4
by

oehoeboeroe

at
Amsterdam, Noord-Holland Netherlands on Monday, December 17, 2018
was ik toch helemaal vergeten dit boek te melden. En ik heb er nog wel zo van genoten! Gaat waarschijnlijk 2e kerstdag terug naar janna2!
---

Journal Entry
5
by

oehoeboeroe

at
Castricum, Noord-Holland Netherlands on Tuesday, December 25, 2018
kerstbomen kijken en dan kan ik meteen wat boeken teruggeven aan janna2 ;-)
---

Ik neem dit boek mee naar de Nieuwjaarsmeeting 2020 in Amsterdam voor Hoisvolbuukskes. Ik hoop dat ze het kan waarderen.
Doet ook mee aan de 52/52 uitdaging, HEENWEG is de plaatsnaam.

---
Journal Entry
7
by

Hoisvolbuukskes

at
Helmond, Noord-Brabant Netherlands on Sunday, January 19, 2020
Tsja...de medebookcrossers janna2 en oehoeboeroe weten hun leesmaatje wel te vinden. In de tas ermee dus op weg naar het Zuiden. Ga er zeker van genieten. Dankjulliewel dames!
---
Journal Entry
8
by

Hoisvolbuukskes

at
Helmond, Noord-Brabant Netherlands on Tuesday, January 21, 2020
Compacte, eenvoudige en heel toegankelijke zinnen, maar wat een juweel van een schrijfstijl.Ondanks het behoorlijk zware thema niets te bespeuren van enig sentiment maar o zo "puur" verteld door de ik persoon - het dochtertje - Dirkje. Prachtig boek, om langzaam tot je te nemen en te genieten van de mooie poëtische taal.
---