Please, Mr Einstein
2 journalers for this copy...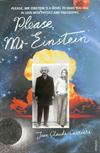 Original French title
Einstein s'il vous plaît
(2005). Translated by John Brownjohn. First published in Great Britain in 2006 by Harvill Secker. London : Vintage 2007. Paperback, 186 pages.
Cover Photograph: Einstein © Popperfoto; woman © Marc Atkins/panoptika.net; hydrogen bomb © Science Photo library; space background © Science Photo; ball © Royalty-Free/Corbis; woodcut of moon © AKG-images
Front cover:
PLEASE, MR EINSTEIN IS A NOVEL TO MAKE YOU FALL IN LOVE WITH PHYSICS AND PHILOSOPHY.
Back cover:
'Carrière's humane sensibility makes him the ideal man to humanise Einstein' INDEPENDET
'Since the 1960s; Carrière has had his finger in the pulse of Europe's imagination'
THE TIMES
A young woman enters a building in a nameless contemporary European city. She walks into a waiting room where a dozen other people, with briefcases or sheaves of documents, are gathered. Ushered into a large office, she meets Albert Einstein, who is engaged in trying to figure out the equation that explains the universe. He is charmed by her, and agrees to answer her questions.
Einstein and the young woman begin discussing the concepts of time and space. He explains his theories about relativity and his responsibility in the creation of nuclear weapons. Einstein also talks about the problem of being famous, about his life in Nazi Germany and how his dreams of worldwide peace were shattered. He appears bright, witty, hugely sympathetic, but also tormented and dreamy.
'A thought-provoking introduction to Einstein and quantum theory' MAIL ON SUNDAY
'Jean-Claude Carrière has opened up Einstein and found in him a myth that is a play, a movie that is both science and fiction, and en exposition of heavy ideas that can be read with the speed of light' PETER BROOK
About the authors:
Jean-Claude Carrière is a writer, playwright and screen writer. He is notably the co-author of Conversations About the End of Time (with Stephen Jay Gould, Umberto Eco, et al). He has also worked with Peter Brook, Miloš Forman, Buñ[u]el, Godard and the Dalai Lama.
John Brownjohn is one of Britain's foremost translators from French and German. His work has won numerous awards including the US PEN Goethe House Prize and the Schlegel-Tieck Prize. He is also a screenwriter whose credits include Tess, Bitter Moon and The Ninth Gate.
Jean-Claude Carrière
at Penguin
Jean-Claude Carrière
at Wikipedia
Please, Mr Einstein
at Penguin
Please Mr Einstein by Jean-Claude Carrière trs John Brownjohn
at
Independent
Book Review: Please, Mr. Einstein
at
The New York Times
'Please, Mr Einstein'
at
Plus Magazine
Please, Mr. Einstein
at
Publishers Weekly
Please, Mr Einstein By Jean-Claude Carrière
at
Bookmarks Magazine
---

I don't know why but I expected this book to be quite different than it really was. I'm not disappointed — on the contrary, I was pleased. I really enjoyed this book, the way Einstein explained things. I read long ago a few of those
for Beginners
types of books (you know,
Freud/Jung/Kafka/Kierkegaard/Newton/Whoever for Beginners
) and found them extremely difficult. It was easier to read the actual text by Whoever himself than some so called introduction to his thoughts.
Please, Mr Einstein
is an introduction to Einstein, an interpretation of Einstein's thoughts by Carriére, but it's still easy to comprehend. All I have to say is that I truly liked both this book and Albert Einstein Carrière presented. The rest is explained so much better in the book reviews I've read (links to them are in my first JE).
I think I'll offer this book in greenbadger's One book a month thread. Therefore this book is now reserved.
Albert Einstein – Biographical
at Nobelprize.org
Albert Einstein
at Wikipedia
---

Released 2 yrs ago (7/1/2018 UTC) at Tampere, Pirkanmaa / Birkaland Finland
CONTROLLED RELEASE NOTES:
So, I did offer this in One book a month thread, and the book was won by mcsar. Happy reading!
---

Thank you so much for the book, the cute postcard (and your humorous note) as well as the homemade bookmark. This looks like a very interesting read.
---