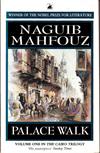 Palace Walk
3 journalers for this copy...

This took me a while to get into, the names especially took me some time to get my head round. It certainly shows a very different way of life, a wife who is not allowed out of the house at all except to see her mother on rare occasions with permission from her husband, just seems so unreal. And the husband who is so strict with his family, and yet goes out boozing and smoozing on a very regular basis. And before I knew it I was halfway through. I will be interested to see where the family goes from here in the next instalment.
---

Sent on as part of the wish list tag game.
---
Safely received in Leicestershire. Thanks a lot.
---
A very well written tale with wonderfully drawn characters and the way of life depicted here is so different and the historical period it is set in is also so different to UK life and our modern times that I was quite fascinated. However, this was another book that was not good for my blood pressure because of the way women were treated and I was glad when one of them showed some spirit and went for divorce rather than putting up with everything. I was glad her father stuck up for her even though it was for his own reasons. As she was pregnant I'll be interested to see if her child features in the next book.
---
Released 2 mos ago (6/13/2019 UTC) at Leicester, Leicestershire United Kingdom
CONTROLLED RELEASE NOTES:
Taking to today's mini meet at James Café Bistro.
---

Journal Entry
6
by

Cross-patch

at
Leicester, Leicestershire United Kingdom on Thursday, June 13, 2019
Thank you Tanamo. Sounds interesting. I hope I have the stomach for it.
---