Ice Hockey and Curling (Winter Olympic Sports)
Registered by
JessicaEby
of
Cambridge
,
Ontario
Canada on 2/15/2018
This book is in a Controlled Release!
2 journalers for this copy...
I purchased this book today at a book sale benfitting the local library system. As we're in the middle of the Winter Olympics right now, I thought it would be fun to quickly read and bookcross this. It was published in 2010 so some of the data will be out of date by now, but the history and rules of the sports aren't likely to have changed so I think it will still be a fun book to read and release at this time.
---
Journal Entry
2
by
JessicaEby
at
Cambridge, Ontario Canada on Monday, February 19, 2018
I gave this book a quick read before getting it ready to go. It provides a good quick summary of the rules and some interesting historical tidbits for each of the featured sports. I noticed what I believe to be a couple of errors that might be worth noting, one in each section.

-- In the hockey section, I don't think it's meant to say that the puck weighs 5.5-6 lbs (p. 7)... based on the weights when given in grams, I'm guessing that should read 5.5-6 ounces.

-- In the curling section, it states that Olympic bonspiels are played with one set of red-handled stones and one set of blue-handled stones (p. 23). I don't know for sure that that statement in incorrect, but in the picture on the facing page people are curling on a sheet of ice with Olympic rings painted on the button, and they are using a set of red-handled stones and a set of yellow-handled stones, so it seems like the "blue-handled" part in the fact box must be a mistake.

Anyway, we're in the middle of the 2018 Winter Olympic Games right now, so it seems like a good time to release a book about two winter sports which are very popular here in Canada-- hockey being our Official Winter Sport, and curling often called "Canada's Other Winter Sport." Today is also Family Day here in my province and the curling club in a smaller town just outside my city is having an Open House today. With the timing and the location for release both falling into place, this book should be "in the wild" within the next couple of hours.
---
Journal Entry
3
by
JessicaEby
at
Ayr Curling Club in Ayr, Ontario Canada on Monday, February 19, 2018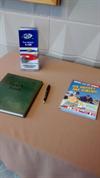 My husband and I stopped by the Ayr Curling Club during its open house. We didn't stay long but it was interesting for me to see the inside of a curling club-- especially the one that was my beloved grandfather's club! We went home with a brochure, and while we were there I released this book. I left it on a little table in the foyer, beside the guest book.
If you've found this book, thanks for picking it up and checking out its journal! If you're new to bookcrossing, welcome. We'd love it if you'd stick around with us a while. I really hope that you enjoy both this book and the whole bookcrossing experience!
This book was released as part of the 2018 "52 Towns in 52 Weeks" Release Challenge. Ayr was Town #5 for me this year.
---
Journal Entry
4
by
HeatherTBL
at
Ayr, Ontario Canada on Tuesday, February 27, 2018
Thanks Jessica for stopping by the club. In the fall we offer a "Learn to Curl" program. I bet your Grampa would love it if you curled.
I picked up the wee book and have it mostly read. I did also note the errors. Oh well. I will pass this book to my grandson who is an avid reader, hockey player and curler.
---
Journal Entry
5
by
HeatherTBL
at
Ayr, Ontario Canada on Wednesday, February 28, 2018
Released to two grandsons to read. The older one plays hockey against neighboring town teams. I suggested he release the book to someone from one of those teams.
---