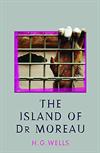 The Island of Doctor Moreau
2 journalers for this copy...

---

Edward Prendick, a private gentleman and naturist is shipwrecked and on rescue is taken to an island where a once eminent English vivisector, Dr. Moreau, has made his retreat and on which hideous misfits are living. Dr. Moreau was forced to leave England his experiments were exposed by the press but hidden away on his private island he is able to work in his laboratory called the House of Pain to continue his attempts to manufacture 'humanised' animals known as the the Beast People. When Moreau's experiments fails he releases them to live on the island ruling them by fear. Prendick's time on the island becomes a nightmare as he spends his time running from Moreau's experiments and uncovering the truth about the crazy doctor.

Obviously science and in particular the idea of science for science sake is central to this book as is the distinction between man and animals but much of Well's writing also deals about social inequality and this is no different.

Given that this book was written in excess of a hundred years ago the real genius of Well's is that it can still can be seen as relevant today. We live in an era where GM food is seen by some as the salvation of the human race and where scientists are looking at breeding cloned animals to deal with transplant shortages, similarly we live in an age where social media has led to an almost cult following of some participants. Overall, despite its brevity, this book covers a number of important themes and as such deserves to be widely read however I feel that Frankenstein explores the themes covered here far better..
---

Released 4 wks ago (6/11/2020 UTC) at Whaley Bridge, Derbyshire United Kingdom
CONTROLLED RELEASE NOTES:
Going out as part of a Reading it/Want it thread. Enjoy!
---
Journal Entry
4
by

vaga-bonde

at
Montpellier, Languedoc-Roussillon France on Thursday, July 02, 2020
The book arrived safely in France today. Thanks so much 4evagreen for yet another gift! I am curious to read this book, but will save it for later this summer, when my library closes for renovations for 2 months.
---