UFO in Her Eyes
5 journalers for this copy...


First published in Great Britain in 2009 by Chatto & Windus. London : Vintage 2010. Paperback, 200 pages.
Cover photograph © Trevillion Images; illustrations © Graham Carter.
Took this book from my real-life BookCrossing shelf (books registered by others only) thinking that it was time to read something that had been sitting there too many years. Imagine my astonishment when I realised that
UFO in Her Eyes
was unregistered. Luckily, there was a cool postcard "Lentopostia kevätnäyttelyyn" ('Airmail to Spring Exhibition') by Turun Postimerkkikerho (Turku Stamp Club). I got both the postcard and this wishlist book from pippis. She said she didn't register it because she didn't want me to feel any pressure, that I should feel free to keep the book in my TBR as long as I wanted. What can I say. Thank you, pippis! Thank you so very much.
From back cover:
Silver Hill Village, 2012. On the twentieth day of the seventh moon Kwok Yun is making her way across the rice fields on her Flying Pigeon bicycle. Her world is turned upside down when she sights a UFThing – a spinning plate in the sky – and helps the Westerner in distress whom she discovers in the shadow of the alien craft. It's not long before the village is crawling with men from the National Security and Intelligence Agency armed with pointed questions. And when the Westerner that Kwok Yun saved repays her kindness with a large dollar cheque she becomes a local celebrity, albeit under constant surveillance...
About the author:
Xiaolu Guo was born in a fishing village in south China. She studied film at the Beijing Film Academy and published six books in China before moving in London in 2002. The English translation of
Village of Stone
was shortlisted for the
Independent
Foreign Fiction Prize and nominated for the International IMPAC Dublin Literary Award. Her first novel written in English,
A Concise Chinese-English Dictionary for Lovers
was shortlisted for the Orange Broadband Prize for Fiction. Her most recent novel,
20 Fragments of a Ravenous Youth
was longlisted for the Man Asian Literary Prize and her new book,
Lovers in the Age of Indifference
will be published by Chatto & Windus in 2010. Xiaolu's film career continues to flourish; her latest feature,
She, A Chinese
, was released in 2009.
Xiaolu Guo
at Penguin site
Xiaolu Guo
at Wikipedia
Xiaolu Guo
at British Council Literature site
Xiaolu Guo: 'One language is not enough – I write in both Chinese and English'
at
The Guardian
Xiaolu Guo homepage
UFO in Her Eyes
at Fantastic Fiction
We're all aliens now
at
The Guardian
Capitalism, Stranger Than a Space Alien
at
The New York Times
Two Views: UFO in Her Eyes by Xiaolu Guo
at
Strange Horizons
---

I was, at first, rather baffled because of the way the story is told. The whole book comprises a folder with some case files – transcriptions of interviews, reports, letters etc. Soon I, however, got used to the style and began to enjoy it. Also, the layout seemed first a bit strange in a novel. But admittedly, it is just the right layout for this book.
I do like UFO in Her Eyes, especially its satirical way of looking at the changing China with its many different aspects. I learned to like the villagers trying to either adjust to the changes or resist them. The book actually gave quite a vivid picture of rural China and also of the enormous size of the country. Telling the truth, I must say I don't think UFO in Her Eyes is anywhere near the best Guo has written, but I did enjoy it nevertheless. I am so grateful to pippis for this reading experience.
---

Released 2 yrs ago (4/6/2018 UTC) at Pirkkala, Pirkanmaa / Birkaland Finland
CONTROLLED RELEASE NOTES:
UFO in Her Eyes was my March offer in greenbadger's One book a month thread. In the delayed draw, the book was won by mcsar. Congrats! I hope you'll enjoy it.
---

The book arrived very quickly. Thank you very much for offering this interesting book. I look forward to reading it.

-----------------------------
Updated April 22, 2018

This is a most fun and interesting read. The presentation style is unique and well suited to this book. I too enjoyed the different perspectives and a glimpse into rural China amidst the changes and developments elsewhere in the country. This is the first book of Guo that I read. If it is nowhere near her best, I would be very interested to read more of her.

And I already have plans for this one. It will travel again soon.
---

Released 2 yrs ago (5/26/2018 UTC) at RABCK, A RABCK -- Controlled Releases
CONTROLLED RELEASE NOTES:
Congratulations. I hope you like this Celestial read.
---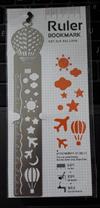 Thank you for the book and cute ruler bookmark! :)
---
I liked this book and its kind of humour.
---
Journal Entry
8
by
Harobed82
at
RABCK, -- By post or by hand/ in person -- France on Friday, July 12, 2019
Released 1 yr ago (7/12/2019 UTC) at RABCK, -- By post or by hand/ in person -- France
CONTROLLED RELEASE NOTES:
Sent to Abi-Gibby who will bring it in a OBCZ in lack of books. :)
---

Arrived safely today, will take it to the OBCZ either on Friday of Monday
---

Journal Entry
10
by

Abi-Gibby
at
Jury's Inn in Plymouth, Devon United Kingdom on Thursday, July 18, 2019
Released 1 yr ago (7/22/2019 UTC) at Jury's Inn in Plymouth, Devon United Kingdom
WILD RELEASE NOTES:
Congratulations, you have picked up a travelling book!
If you have a moment, we'd love you to let us know you have the book as we're keen to follow its journey. You can even post a review when you've read it before passing it on to the next lucky person.
Happy reading!
Not sure what to do? Follow these steps!
1) You may continue as an Anonymous Finder. Or, Register as a member , then you too will receive future journal entries on this book and track its journey around the world!
2) Make a journal entry on this book to let us know how you found it!
3) If you choose to read the book, please make another journal entry when you finish it to let us know what you thought!
4) Ready to pass the book on? Click on "make release notes" to let us know where it's going! Leave the book in a public place or give it to a friend!
***Please Note***
When re-releasing this book please be aware that airports are not a good place to leave books unless they have a specific book exchange shelf or area, due to security problems, so they may well just be disposed of.
**** Also charity shops may well discard books that have been labelled in any way and they mostly chose only the books in the very best condition to place on their shelves and discard the rest-so another bad release option. ****
---

Journal Entry
11
by

AnonymousFinder

at
Plymouth, Devon United Kingdom on Friday, July 26, 2019
Given to me by a friend who is visiting the area, apparently she found this book on a book exchange in the hotel she is staying at
---