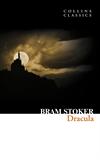 Dracula
2 journalers for this copy...
Bram Stoker was born in Dublin in 1847 and studied Pure Mathematics at Trinity College Dublin. He developed a passion for the theatre while at university and, on graduation, spent seven years in the Irish Civil Service. He then became business manager at London's Lyceum Theatre in 1878 and married Florence Balcombe the same year - beating, would you believe, Oscar Wilde to her hand in marraige. Stoker is obviously best known for 'Dracula', which was first published in 1897.

Dracula is a little different to the standard novel - it's a collection of journal entries, letters and the occasional newspaper article. (It may sound strange, but it works very well). The book kicks off with the journal entries of a recently qualified solicitor, Jonathan Harker, on his was to Transylvania - a region in the Carpathian Mountains . Harker's firm had been employed by a local nbleman called Count Dracula to oversee the purchase of an old estate in England . The firm have settled on an estate called Carfax, at Purfleet, and Harker is travelling to tidy up the final details with the Count. He doesn't have the easiest of journeys - dreadful trains in Hungary, howling dogs beneath his bedroom window - but, poor chap, things are about to get an awful lot worse. Bistritz is the nearest town to his destination, Castle Dracula...spends the night in an inn there, planning to complete his journey the following day by stagecoach. His landlord won't talk about the Count or his castle - but, just before he leaves, his landlady begs him not to go, (She's especially concerned that it's St George's Eve when - at midnight - "all evil things in the world will have full sway"). Naturally, he pays no heed - but takes the crucifix she offers him. It's something that - as an "English churchman" - he's always viewed as "idolatrous". However, he becomes very attached to it in time.

Harker's due to get the coach as far as the Borgo Pass, where Dracula's private coach will then meet him. Despite his coach driver's best efforts - he arrives an hour early, in the hope of taking Harker on to Bukovina - Dracula's coach arrives and Harker makes for the castle. Like the countryside's howling wolves, the driver's glowing red eyes and sharp white teeth aren't too comforting....though the Count's appearance is little better. (Dracula is old, incredibly pale, has set of long white teeth, long fingernails sharpened to a point and a strong handshake that's as cold as ice). Although, initially, very polite Dracula never eats with Harker and effectively bans him from exploring the castle - the majority of its doors remain locked to him. Furniture in the castle is very expensive and in excellent condition...though, strangely, there's no sign of either servants or mirrors. Harker later starts to understand what he's got himself into - thanks, in part, to an accident with a razor blade and a shaving mirror. By then, the castle has become a prison and he knows why the locals spoke of Hell, Satan and vampires when he was leaving the inn.

Harker spends longer at the castle than he had planned, or wanted to - and the action shifts to England when Dracula leaves home - alone. The story is then picked up by Harker's fiancee, Mina - through her own journal and the letters she was writing to her friend, Lucy Westenra. The pair spend quite some time together in Whitby ...which, unfortunately, is exactly where Dracula's boat comes into dock. (Worse - ever the ladies' man - Dracula isn't long in making a move). Lucy has recently become engaged to the Hon Arthur Holmwood, the only son of Lord Godalming. (She had turned down Dr Seward - who has his own asylum - and an American gentleman called Quincey Morris the same afternoon Arthur had proposed. Marraige propposals were obviously a bit like buses in those days - you wait years for one and then three turn up at once). Seward's journal entries add quite a bit to the book, and his request for help from his old teacher, Professor Van Helsing, is very significant.

The book isn't always overtly scary, though there is plenty of mystery and intrigue. Several 'obvious' clues - like the presence of a bat, or the puncture wounds on someone's neck - are repeatedly ignored. (Only Van Helsing has any idea what they're dealing with...and it's quite a while before the key players are able to get together and pool their information). It's very descriptive, and conjures up some great images - for example, Dracula's home in Transylvania was a "vast, ruined castle, from whose tall black windows came no ray of light and whose broken battlements showed a jagged line against the moonlit sky." However, after he leaves Transylvania, Dracula only ever makes fleeting appearances and the book does, occasionally, throw out a line you just have to laugh at. (The book has barely started before the gentlemanly Harker comments : "the women looked pretty, except when you got near them"). Still, the book is a classic, and - having defined the whole vampire genre - is one of those titles you just have to read.
---
Journal Entry
2
by
cluricaune
at
Belfast, Co. Antrim United Kingdom on Sunday, January 28, 2018
To the finder:

Welcome to BookCrossing!

Please make a journal entry to let me know that this book has been caught so I know that it has found a good home with you. I hope you like the book, but I'd be grateful if you'd let me know what you thought of it by making another journal entry when you've finished it.

Then, whenever you are ready to send it on its way, make a journal entry if you are giving or sending this book to a known person, or a release note if you are leaving it "in the wild" again for anyone to catch. Then watch its journey.

If you've decided to sign up, you'll be alerted by e-mail each time someone makes another journal entry. And it's confidential (you are known only by your screen name and no one is ever given your e-mail address), free, and spamless !

Some faqs : http://www.bookcrossing.com/faqs

Thanks for stopping by, have fun!
---
Journal Entry
3
by
cluricaune
at
Armagh Planetarium, College Hill in Armagh, Co. Armagh United Kingdom on Friday, March 16, 2018
Released 8 mos ago (3/16/2018 UTC) at Armagh Planetarium, College Hill in Armagh, Co. Armagh United Kingdom
WILD RELEASE NOTES:

Ground floor, on an information stand underneath all the model satellites.
---

Journal Entry
4
by

AnonymousFinder

at
Armagh, Co. Armagh United Kingdom on Saturday, March 17, 2018
I found this book in the Armagh Planetarium of all places! I've read the book before, but this has prompted a re-read. I have my own copy so I'm going to pass this along to another location and hope someone else will find it an enjoy the story as much as I do.

I can't really say much more than what the first journaler has said, but I will say this, it's a classic for a reason, and definitely one that should not be overlooked. I found it a powerful story and one that kept me up at night turning the pages to find out more!
---