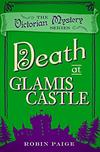 Death at Glamis Castle
2 journalers for this copy...

This is the ninth book in this series and was supplied to me by rainbow3. I have registered this to save her time and problems doing so and also, more importantly, she supplied it so that I could read it and pass it on to her as she catches me up on reading through this series!

Cover.
"Lord Charles Sheridan and his American wife, Kate, are on an archaeological dig, excavating sections of Hadrian's Wall, when they receive a mysterious telegram. King Edward has summoned them to Glamis Village, a quaint hamlet north of Edinburgh, without telling them why." "Upon their arrival, they discover that they will be staying at Glamis Castle. Nestled in the rugged Grampian Mountains, it is the most historic castle in all of Scotland, a place teeming with dark secrets and haunting shadows. For Kate, this is the perfect opportunity to gather much-needed inspiration for her next Gothic novel. But while she winds her way through the elaborate manor, gleaning the mysterious histories of those who have dwelt there, Lord Charles discovers the real reason behind their journey to Glamis." It seems that Prince Eddy, who had been heir to the throne until his purported death in 1892, has actually been alive all these years. Deemed unfit for the throne, he has been living secretly at Glamis, under an assumed name. Only now the prince has gone missing - on the very morning that the body of one of his servants was found, her throat slashed in a manner eerily reminiscent of the Ripper's. Now, Charles and his clever Kate must find Eddy and clear his name - while keeping his true identity a secret."

In process of reading this and will journal when completed.

---

Journal Entry
2
by
Flutterbies9
at
RABCK, -- By post or by hand/ in person -- United Kingdom on Friday, January 26, 2018
Released 1 yr ago (1/27/2018 UTC) at RABCK, -- By post or by hand/ in person -- United Kingdom
CONTROLLED RELEASE NOTES:
I did so enjoy this but I have a feeling I've read it previously without knowing where it fitted in with the series or even what the rest of the series was.

Happy reading and happy travels little book.
---

Eep! Tiny tidy revealed a note dating from Mon 19 Feb 2018, stating this arrived with me from Flutterbies9 (delivered to me Aberdeen, if I recall correctly). Oh dear, I've been picking this up for months now and moving it somewhere safe, eh, hem...so I wouldn't forget it. And... ...we see how well that worked!

So clearly this is now somewhere in the flat, and now looking at this note I distinctly recall posting it to myself here in Edinburgh just before Christmas 2018. Whay hey!

---