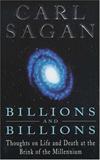 Billions and Billions
Registered by
kangaroo
of
Barnet
,
Greater London
United Kingdom on 1/16/2018

This Book is Currently in the Wild!
4 journalers for this copy...
Travelling on to the winner of the non-fiction sweeps - enjoy!
---

Thank you so much! I don't think I've actually ever read any of Sagan's books, only bits and pieces published elsewhere, so I am very curious to give this one a go. I already have a release option in mind for afterwards, since
the Sagan Planet Walk
is in a nearby town!
---

Overall, I enjoyed this collection of essays. I did wish they all had dates they were written, since that seemed to be included on only a few, and it would be interesting to be able to compare them to events and knowledge at the same time they were written, particularly for the more political ones.

Quite a few of these are social and environmental commentary, and it was quite alarming to realize how little progress we have made in the two decades since it was published. Many of these issues are the same, and it is clear that Sagan's hopeful timeline for humanity to save itself has not progressed as he described.

Two things I was a little taken aback by were his casual sexism and a couple borderline racist comments in his explanations and examples. Despite his waxing poetic on the need for underrepresented people to take charge in our society, I think he still had some probably-unconscious bigotry underlying his thinking, and probably could have used a beta reader or editor from one of these groups to catch those errors. There were also few references in the back to back up many of his statements, and there were a number of spots where I felt like his anthropological claims were based on unsubstantiated info or aspects we have absolutely no proof of. Obviously, this is an area outside of his main scientific knowledge, but that means you should get an expert to fact-check and rein you in. It seems like a weird oversight, my guess would be that it was probably due to his fame and an editor's reluctance to ask his widow for scientific proof before publishing.

This is definitely a thought-provoking read, and a pretty good one, but I think more rigorous editing could have made it a great one. A lot of his claims are uncomfortable for readers, since they ask us to change how our society functions and our understanding of the universe. Having strong science to back them up would have made it clearer that (most) of this isn't just stuff one man made up.
---

---

---

Even though it was in the subtitle of the book, I was still expecting the book to cover mostly astronomy. :/ So, I did enjoy Part I -- The Power and Beauty of Quantification. Everything after that did not hold my attention that well. As the subtitle suggested, it was the thoughts/opinions of Carl Sagan on a number of topics from abortion to global warming.
---

Journal Entry
7
by

Spatial

at
Science & Technology Bookbox, A Bookbox -- Controlled Releases on Friday, June 21, 2019
Released 7 mos ago (6/21/2019 UTC) at Science & Technology Bookbox, A Bookbox -- Controlled Releases
CONTROLLED RELEASE NOTES:
---

Journal Entry
8
by

GoryDetails

at
Nashua, New Hampshire USA on Sunday, July 07, 2019
I'm claiming this book from the Science and Technology bookbox. I remember Sagan fondly from "Cosmos" and other work.
Later: I enjoyed this collection of essays very much - and it was all the more poignant as the final one details Sagan's struggles with the disease that led to his death only months after he finished that essay.
From the opening lines in the title essay ("I never said it. Honest.") through his look at humanity's fascination with sports to the (sadly, still a major issue) environmental concerns, I appreciated Sagan's humor and intelligence - and his unbounded appreciation for the natural world, both on this planet and in the sky...
[There's a
TV Tropes page
on Sagan and his work, including entries about this collection - notably his reaction to the iconic phrase that he chose as its title!]
---

Journal Entry
9
by

GoryDetails

at
Little Free Library, Revive Recovery Center in Nashua, New Hampshire USA on Sunday, July 28, 2019
Released 5 mos ago (7/28/2019 UTC) at Little Free Library, Revive Recovery Center in Nashua, New Hampshire USA
WILD RELEASE NOTES:

I left this book in the Little Free Library outside the Revive Recovery Center on this warm day; hope someone enjoys it!
[See other recent releases in NH
here
.]
*** Released for the
2019 Keep Them Moving release challenge
. ***
---