Das Wasser so kalt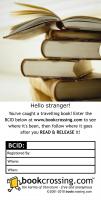 Registered by

fannynatalie

of
Wien Bezirk 08 - Josefstadt
,
Wien
Austria on 4/8/2019
3 journalers for this copy...

Journal Entry
1
by

fannynatalie

from
Wien Bezirk 08 - Josefstadt
,
Wien
Austria on Monday, April 08, 2019
Nomen ist nicht immer Omen. Das zumindest weiß Marie Glücklich sicher. Frisch verlassen, stellen- und mittellos, kehrt sie in ihre schwäbische Heimat zurück. Als eine alte Schulfreundin ihr einen Job vermittelt, lässt sie sich, wenn auch widerwillig, auf die Sache ein: Das Institut für Demoskopie in Allensbach sucht für eine Studie über den 'Einfluss des Internet auf die Partnersuche' allein stehende Männer und Frauen, die in einer Online-Kontaktbörse ein Inserat aufgeben. AAls Marie wenig später anonyme Anrufer erhält und in der Nähe ihres Hauses am Seeufer die Leiche einer jungen Frau gefunden wird, ist sie allerdings nicht mehr sicher, ob es die richtige Entscheidung war.
---

Journal Entry
2
by

fannynatalie

at
OBCZ Golden Harp in Wien Bezirk 09 - Alsergrund, Wien Austria on Sunday, May 19, 2019
Released 1 yr ago (5/21/2019 UTC) at OBCZ Golden Harp in Wien Bezirk 09 - Alsergrund, Wien Austria
WILD RELEASE NOTES:
Liebe/r Finder/in,
herzlichen Glückwunsch, du hast ein reisendes Buch gefunden! Ich hoffe, es gefällt dir.
Ich freue mich, wenn du einen Journal-Eintrag machst, damit ich weiß, wo das Buch gerade ist und was du damit vor hast. Wenn dir die Idee von Bookcrossing gefällt, kannst du dich bei Bookcrossing registrieren, das ist kostenlos und anonym. Du kannst dadurch den weiteren Weg dieses Buches verfolgen. Infos auch auf http://www.bookcrossers.at/
bzw. http://www.bookcrossers.de/

In Österreich gibt es ein eigenes Bookcrossing-Forum: http://bcat.az.in/forum/
dort gibt es Hilfe bei Fragen und Infos zu Bookcrossing und auch der Spaß kommt nicht zu kurz. Viele erholsame Stunden und Spaß beim Lesen!

Hello! Bookcrossing is an online community of book lovers dedicated to sharing books with each other and the world at large. We are curious to see how far and wide this book will travel and how its readers like it. Kindly make a journal entry to let us know it's found a new reader.
Feel free to read and keep this book, pass it on to a friend, leave it back or somewhere else for the next reader. If you journal this book as a member, then you will be able to follow the book as it travels around. Happy reading!
---

Journal Entry
3
by

OBCZ-TeddysDen

at
Herisau, Appenzell Ausserrhoden Switzerland on Tuesday, May 28, 2019
Leider hab ich im Moment keine Zeit für Krimis, trotzdem vielen Dank fürs Bringen!
---

Journal Entry
4
by

OBCZ-TeddysDen

at
- irgendwo in Konstanz in Konstanz, Baden-Württemberg Germany on Wednesday, July 10, 2019
Released 1 yr ago (7/10/2019 UTC) at - irgendwo in Konstanz in Konstanz, Baden-Württemberg Germany
WILD RELEASE NOTES:
Du hast ein Buch gefunden, willkommen bei Bookcrossing! Es wird Dir hoffentlich gefallen. Behalte es solange Du willst, und lass es wieder frei, wenn es gelesen ist. Wir freuen uns auf jeden Eintrag, möchten wissen, wie es dem Buch geht, wo es sich gerade befindet. (Anonyme Eintrage sind ok, oder denk Dir einen lustigen Namen aus und werde Mitglied unserer grossen weltweiten BC-Gemeinschaft.)

*****************
You found this book, I hope you enjoy it. Make a journal entry and let us know where you found it and how you'd liked it - and maybe what you plans are with it (anonymous is ok - or think of a cute name and sign up for free and become part of our great bookcrossing community). Bookcrossing is free and it's great fun!


---

Journal Entry
5
by

AnonymousFinder

at
St. Gallen, St. Gallen Switzerland on Wednesday, July 24, 2019
Hallo, meine Scgwester hat das Buch bei Ihrer Wanderung am Bodenseeufer gefunden. (St. Gallen ist nur eingetragen, weil was ausgewählt werden musste. Sie sind in der Nähe von Konstanz losgezogen. ) Sie waren auf der Durchreise nach Italien.

Sie hat es am Strand durchgelesen und mir gegeben, weil sie vor der Abreise nicht geschafft hat einen Eintag zu schreiben. Die Bewertung ist von ihr. Ich lasse es in Bibione heute bei einer Radtour frei.
---