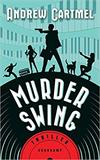 Murder Swing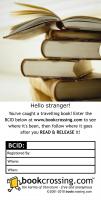 3 journalers for this copy...

London, heute: Er ist ein Plattensammler, ein Spezialist für äußerst seltene LPs, die er kauft und verkauft. Die Jobbeschreibung auf seiner Visitenkarte lautet: ›Vinyl-Detektiv‹. Und manche Leute nehmen das ganz wörtlich – so wie die geheimnisvolle Nevada Warren, die ihn für eine Unsumme anheuert, um für einen anonymen Auftraggeber eine Platte zu finden, die zu der schmalen Produktion eines winzigen kalifornischen Jazz-Labels gehört, das in den 1950ern nur ein Jahr existierte.

Bald häufen sich seltsame Todesfällen, die allesamt mit dieser Platte zu tun haben könnten. Aber was könnte auf ihr zu hören sein, was sie so ungemein wertvoll macht? Und was hat einer der mächtigsten Konzerne der weltweiten Unterhaltungsindustrie damit zu tun? Zu allem Überfluss hat unser Detektiv bald auch noch die »Aryian Twins« Heinz und Heidi an der Hacke, zwei ziemlich extravagante Killer …
---

Journal Entry
2
by
fannynatalie
at
OBCZ Golden Harp in Wien Bezirk 09 - Alsergrund, Wien Austria on Friday, March 29, 2019
Released 2 yrs ago (3/31/2019 UTC) at OBCZ Golden Harp in Wien Bezirk 09 - Alsergrund, Wien Austria
WILD RELEASE NOTES:
Liebe/r Finder/in,
herzlichen Glückwunsch, du hast ein reisendes Buch gefunden! Ich hoffe, es gefällt dir.
Ich freue mich, wenn du einen Journal-Eintrag machst, damit ich weiß, wo das Buch gerade ist und was du damit vor hast. Wenn dir die Idee von Bookcrossing gefällt, kannst du dich bei Bookcrossing registrieren, das ist kostenlos und anonym. Du kannst dadurch den weiteren Weg dieses Buches verfolgen. Infos auch auf http://www.bookcrossers.at/
bzw. http://www.bookcrossers.de/

In Österreich gibt es ein eigenes Bookcrossing-Forum: http://bcat.az.in/forum/
dort gibt es Hilfe bei Fragen und Infos zu Bookcrossing und auch der Spaß kommt nicht zu kurz. Viele erholsame Stunden und Spaß beim Lesen!

Hello! Bookcrossing is an online community of book lovers dedicated to sharing books with each other and the world at large. We are curious to see how far and wide this book will travel and how its readers like it. Kindly make a journal entry to let us know it's found a new reader.
Feel free to read and keep this book, pass it on to a friend, leave it back or somewhere else for the next reader. If you journal this book as a member, then you will be able to follow the book as it travels around. Happy reading!
---
wow ein Wunschbuch, danke dir von Herzen.

endlich wiedermal ein Buch das mich fesselt und fast habe ich es schon durch, aber nur fast....wird später an Katzen- und Krimifans weiter gegeben, den im Buch spielen auch 2 nette Katzendamen mit, wenn auch nur zum Streicheln.

Gestern bis nach Mitternacht fertig gelesen, sehr spannend, aber kein Wunder der Autor schrieb auch Geschichten für Dr.Who ;-)


---
Journal Entry
4
by

Ghanescha

at
Haus der Jugend - BC Convention 2019 in Mainz, Rheinland-Pfalz Germany on Tuesday, April 23, 2019
Released 2 yrs ago (4/26/2019 UTC) at Haus der Jugend - BC Convention 2019 in Mainz, Rheinland-Pfalz Germany
WILD RELEASE NOTES:

"Ein Buch ist nicht nur ein Freund, es schafft Dir neue Freunde. Wenn Du ein Buch in Gedanken und im Geist besessen hast, bist Du bereichert.

Aber wenn Du das Buch weitergegeben hast, bist Du dreifach bereichert."
Henry Miller


---

Das klingt nach einem perfekten Buch für mich. Schön dich wieder getroffen zu haben.....immer wieder sehr gerne.

Erinnerungsnotiz: danach an Trinibell weitergeben
---