Dead to the World (Sookie Stackhouse/True Blood)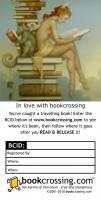 2 journalers for this copy...
Description:

It's not every day that you come across a naked man on the side of the road. That's why cocktail waitress Sookie Stackhouse doesn't just drive on by. Turns out the poor thing hasn't a clue who he is, but Sookie does. It's Eric the vampire - but now he's a kinder, gentler Eric. And a scared Eric, because whoever took his memory now wants his life. Sookie's investigation into who and why leads straight into a dangerous battle among witches, vampires, and werewolves. But a greater danger could be to Sookie's heart - because this version of Eric is very difficult to resist.
---
I enjoy this series for when I am looking for something in the light, somewhat fluffy vampy genre. Great summer read when you are sitting on the porch, with your shades on, sipping on a Bloody Mary.

Putting this in emmejo's Otherworldly Bookbox. Happy Travels, Sookie and friends!
---

Journal Entry
3
by
BookLovinMama
at
Arnold, Missouri USA on Monday, December 17, 2018
I was the last in line for emmejo's most recent Otherworldly book box. I didn't realize the box was lost in my basement in August and only recently discovered as we were packing up items for the library. emmejo is in the process of moving so we agreed that I would pass along those that we won't read. I apologize for not moving them along sooner!
---