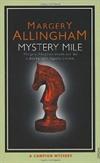 Mystery Mile
Registered by
BC-08041015142
on 3/25/2004

This Book is Currently in the Wild!
2 journalers for this copy...
From Amazon:

"In this early Campion mystery, the mild-mannered detective sets out to investigate why someone would attempt to kill an American judge. Whether by bad luck or bad marksmanship, four others have already died in place of Judge Lobbett. The tale involves a complex plot, a host of unforgettable characters, and a good dose of British humor, making it a classic in the genre".
---
Released on
Saturday, April 24, 2004
at
BookRelay
in n/a, n/a Controlled Releases.
---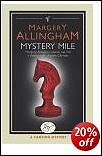 A nice suprise was waiting for me when coming home from work.
Thank you, GlasgowGal! I'll read it in the summer.
Product Description
Judge Crowdy Lobbett has found evidence pointing to the identity of the criminal mastermind behind the deadly Simister gang. After four attempts on his life, he ends up seeking the help of the enigmatic and unorthodox amateur sleuth, Albert Campion. After Campion bundles Lobbett off to a country house in Mystery Mile deep in the Suffolk countryside, all manner of adventures ensue. It's a race against time for Campion to get the judge to safety and decipher the clue to their mysterious enemy's name. Luckily for Judge Lobbett, underneath his constant stream of nonsensical banter, Campion displays a diamond-sharp intelligence and a natural detective's instinct.
---

This book has been sitting in the back row on my book shelf far too long.
I read years ago two books of Margery Allingham but I don't remember anything about them.
I suppose I did not notice then that her story reminds an English pantomime or panto.
One bizarre or comic actor after another marches to the scene and does his or her part. Allingham's actors are really as excentric as is their mode of speach.
I saw a panto in Helsinki maybe 15 years ago and I still remember it and I liked it. Pantomime or pantomiimi in Finnish means quite a different performance.
This is my # 35 (100) in
"REDUCE MOUNT TBR 2011" Challenge
arranged by Dove-i-Libri.
This is my # 32 in
"KEEP THEM MOVING 2011" Challenge
arranged by Booklady331.
---

Released 10 yrs ago (3/11/2011 UTC) at T-Centralen in Stockholm, Stockholm Sweden
WILD RELEASE NOTES:
---