The Word for Home
Registered by
JessicaEby
of
Cambridge
,
Ontario
Canada on 12/30/2017

This Book is Currently in the Wild!
1 journaler for this copy...
I bought this book at a used bookstore I like, Second Look Books, in my neighbouring city of Kitchener, ON. My husband actually picked it out for me as he thought it seemed like something I'd find interesting. I don't know a lot about it, but I see that it was the winner of a Mr. Christie's Book Award and the quotes from reviews printed on the back cover seem to give it high praise. I am eager to read it and see what it's like.

In celebration of the sesquicentennial, I have dedicated this year's bookcrossing activity to the reading and sharing of Canadian stories. I am happy to include this story, set in pre-Canadian Newfoundland, in my Canada 150 project!
---
Journal Entry
2
by
JessicaEby
at
Cambridge, Ontario Canada on Monday, January 08, 2018
This is the first book I have finished reading in 2018. While there was a fair bit of sadness and difficulty in this book, I thought it was a pretty good read, and a pretty good story. I found it quite relatable in spite of the very different time and place because if you break it down to a bare-bones kind of structure, my life has followed a similar pattern to the girls' in the story.

When I was little I was home with my stay-at-home-mother and siblings, while my father was gone from Monday morning until Friday night for work. Even after changing jobs, he worked 70-80 hours a week, so I was used to being with my mother. Then she became ill and died when I was around the age that Flora is in the book, and there were periods of difficulty and uncertainty and upheaval while my family attempted to adjust and redefine things and make things work. We all tried our best, of course, but such things are never easy. As the anniversary of my mother's death is this week, I am probably feeling all this book stuff even more deeply.

I do not yet have a release planned for this book, but I do plan to wild release it somewhere, sometime. I hope its subsequent readers can't relate to it as personally as I can, but I hope they are glad to have it and read it, anyway.
---
Journal Entry
3
by
JessicaEby
at
Goofy Newfie Pub--on the patio in Fergus, Ontario Canada on Monday, December 10, 2018
Released 2 yrs ago (12/10/2018 UTC) at Goofy Newfie Pub--on the patio in Fergus, Ontario Canada
WILD RELEASE NOTES: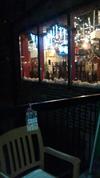 After a very hectic week, the schedules in my household are all thrown off. My husband and I ended up driving home from Owen Sound kind of late on Sunday evening, and we needed to eat something. We read about a really great-sounding Newfie pub/restaurant in Fergus, and Google said it was open until 11 so we decided to stop in. Unfortunately Google was not up to date and we were too late, so we'll be back on another day-- but in the mean time I left this book there. My husband thought a particular spike coming up from the patio rail was the perfect place to hang the book in its protective bag, so that's what we did!
If you've found this book, thanks for picking it up and checking out its journal! If you're new to bookcrossing, welcome. We'd love it if you'd stick around with us a while. I really hope that you enjoy both this book and the whole bookcrossing experience!
This book was released as part of the 2018 "52 Towns in 52 Weeks" Release Challenge. Fergus was Town #48 for me this year!
---