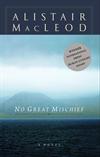 No Great Mischief
2 journalers for this copy...
I bought this book at a charity shop in my neighbouring city of Brantford, ON. This is a book I have read a number of times, though I haven't read it in a while now.

In celebration of the sesquicentennial, I have dedicated my 2017 bookcrossing activity to the reading and sharing of Canadian stories. While it's been a while, this is a Canadian book that I have been fond of in the past, so I am happy to include it in my Canada 150 project.

The following is copied and pasted from a journal entry I made on another copy of this book about 11 years ago now...

I first read No Great Mischief as a 16 year old in 2002, when it was the first book for the One Book, One Community project in my region. One of my brothers encouraged me to read it, and I'm so glad that I did! I think it's safe to say that it is one of my favourite books in general, probably my favourite Canadian novel, and probably my favourite "grown-up book." I have heard complaints about it being hard to get into because of its rhythms, but I have never had trouble with it. I don't know if that's because of my Canadian-ism, my Scottish-ness, a combination, or none of those things, but as I said, I've never had trouble falling into its rhythms. I re-read this book in 2006, and liked it just as much the second time around. I think I understood it in new ways the second time, as well as in the original ways. At that time I said " Maybe it's one of those onion books, with many layers... or maybe it's just that over the past four years I've had new experiences that have afforded me different view points and things to relate to." Either way, I really enjoyed it both times.

My favourite quote about this book is from the Glasgow Herald, and it is as follows:

"This is a simply great novel. The simplicity lies in the device of the plot. The greatness lies in its scope, imagination, and execution... His message beguiles, his prose captivates, and his narrative never loosens a deceptively gentle grip."

No Great Mischief is an internationally acclaimed novel, it is a "long-time national bestseller," and it has received the International IMPAC Dublin Literary Award; the Dartmouth Book Award for Fiction; the Thomas Raddall Atlantic Fiction Award; the Trillium Award for Fiction; the CAA-MOSAID Technologies Inc. Award for Fiction; and the Canadian Booksellers Association Libris Award for Book of the Year. Alistair MacLeod was also awarded Author of the Year at the Libris Awards, and this book was a finalist for the Pearson Canada Reader's Choice Award at Word on the Street. It comes highly recommended by various authors and critics, and, of course, by me! I do realize that I am gushing here, so now I will leave you with the summary from the back of the book.

Alexander MacDonald guides us through his family's mythic past as he recollects the heroic stories of his people: loggers, miners, drinkers, adventurers; men forever in exile, forever linked to their clan. There is the legendary patriarch who left the Scottish Highlands in 1779 and resettled in "the land of the trees," where his descendants became a separate Nova Scotia clan. There is the team of brothers and cousins, expert miners in demand around the world for their dangerous skills. And there is Alexander and his twin sister, who have left Cape Breton and prospered, yet are haunted by the past. Elegiac, hypnotic, by turns joyful and sad, No Great Mischief is a spell-binding story of family, loyalty, and of the blood ties that bind us to the land from which our ancestors came.
---
Journal Entry
2
by
JessicaEby
at
Halifax Donair in Milton, Ontario Canada on Thursday, July 05, 2018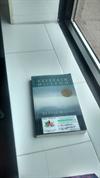 On a quest for Canadiana in 2017, my husband and I discovered Halifax Donair in Milton. We stopped in tonight to pick up a snack on a drive back from Toronto. While we were there, I left this copy of No Great Mischief. This book was voted "Atlantic Canada's greatest book of all-time," and it's set in Nova Scotia, so I thought the Nova Scotian restaurant was a good place to leave it!
If you've found this book, thanks for picking it up and checking out its journal! If you're new to bookcrossing, welcome. We'd love it if you'd stick around with us a while. I really hope that you enjoy both this book and the whole bookcrossing experience!
This book was released as part of a couple of release challenges here on Bookcrossing. It was part of the 2018 "Canada Days" Release Challenge, and the 2018 "52 Towns in 52 Weeks" Release Challenge, for which Milton was Town #19 for me!
---

Journal Entry
3
by

AnonymousFinder

at
Havelock, Ontario Canada on Tuesday, July 31, 2018
Took me a bit to get into the book but after I did, I am quite enjoying it!
---