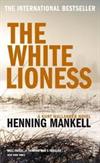 The White Lioness
Registered by

Fifna

of
Voorburg
,
Zuid-Holland
Netherlands on 12/19/2017
5 journalers for this copy...

Journal Entry
1
by

Fifna

from
Voorburg
,
Zuid-Holland
Netherlands on Tuesday, December 19, 2017
"In peaceful southern Sweden, Louise Åkerblom, an estate agent, pillar of the Methodist church, wife and mother, disappears. There is no explanation and no motive. Inspector Kurt Wallander and his team are called in to investigate.

As Inspector Wallander is introduced to this missing persons case, he has a gut feeling that the victim will never be found alive, but he has no conception of how far he will have to go in search of the killer. In South Africa, meanwhile, Nelson Mandela has made his long walk to freedom, Wallander finds himself caught up in a conspiracy involving renegade members of the South African secret service and a former KGB agent, all of them set upon halting Mandela's rise to power. Faced with a world in which terrorism knows no frontiers, Wallander must prevent a hideous crime that means to dam the tide of history."
---

A wishlist book on its way to earthcaroleanne!
---

Journal Entry
3
by

earthcaroleanne

at
Falkirk, Scotland United Kingdom on Friday, December 29, 2017
Thank you so much for this wishlist book.
---

Journal Entry
4
by

earthcaroleanne

at
Falkirk, Scotland United Kingdom on Monday, February 26, 2018
I'm a bit disappointed with this one. There are large chunks of political history on South Africa, I realise that some of this is necessary to understand the motives of the criminals, but there's so much that it disrupts the flow of the story. Just as you are becoming gripped it switches to long paragraphs of history. The part of this story that was set in Sweden was really gripping, however the part set in South Africa was much less interesting and didn't really stack up at all. It went on too long and the politics element was laboured.
---

Journal Entry
5
by

earthcaroleanne

at
Salford, Greater Manchester United Kingdom on Saturday, April 07, 2018
Released 1 yr ago (4/9/2018 UTC) at Salford, Greater Manchester United Kingdom
CONTROLLED RELEASE NOTES:
Sending as a thank you.
---

Arrived safely today. Many thanks for this wishlist book.
---

I enjoyed this more than the previous Wallander I read so hopefully this is a series that will improve over time.

Reserved as a possible book for plum's world of crime bookbox.
---

The bookbox had a book by a Swedish author that I'd already read so this book is heading off to marmee463 instead :)
---

Surprise, surprise - I arrived home this afternoon to find The White Lioness in my letterbox - thank-you so much brunton11. Also thank-you for the stickers, book plates etc - a generous act and much appreciated. Now looking forward to finding out what Kurt is up to...
---

In this novel Mankell tells two parallel stories, a tricky business but Mankell does it skillfully. One story is a tense murder mystery featuring Wallander at his unpredictable best; the other is a suspenseful political thriller set in de Klerk's Africa at the tail end of apartheid. It is an impressive balancing act culminating in a suspenseful, entertaining read.
---

Journal Entry
11
by

marmee463

at
SI Cafe in Templestowe, Victoria Australia on Sunday, June 30, 2019
Coffee today with friends, hopefully one of them will catch it.

To the finder of this book -
Please let me know it is in safe hands by journalling that you have caught it, you are under no obligation to read it and Bookcrossing is completely anonymous.
---
Journal Entry
12
by
AnonymousFriend
at
Templestowe Lower, Victoria Australia on Friday, July 05, 2019
Another to add to my reading list of Wallander, although seen on TV but a book is always better
---