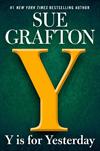 Y is for Yesterday
Registered by

jlautner

of
Henderson
,
Nevada
USA on 3/17/2019
This book is in a Controlled Release!
1 journaler for this copy...
Arrived from an Amazon seller a few days ago.
---
The last Kinsey Millhone mystery. I feel like a good friend has died or disappeared. I have become so attached to Kinsey over the years that I almost feel I could see her in Santa Barbara when I go there. Yes, I know Grafton calls it Santa Teresa but we all know what she means.

Kinsey is pulled into the larger mystery when hired to find a blackmailer. The McCabes, a reasonably wealthy couple, were sent a videotape made ten years before, with a threat that it will be sent to the police if the blackmailer doesn't get $25000.

The videotape (all of Kinsey's mysteries take place in the 1980s) is a copy of a tape done by several high schoolers and looks like the rape of a young girl. The McCabes' son Fritz is one of the "actors" on the amateur tape, and he had just been released from prison, having served time for manslaughter. If the tape gets out he may be charged with rape and go back in again. The McCabes want to prevent this.

There are different stories about the tape. It was filmed by another student, and directed by Austin, a popular student who tended to intimidate others. The boys all say it was "a lark", something done for fun, and that the girl was laughing too, in the deleted sections. The girl, Iris, also says it was done in fun. But Kinsey doesn't see the fun when she sees the girl on tape, so drunk she can't stand up.

Ten years before, Fritz had killed another girl, Sloan, while a group of friends were walking in the woods after a party at Austin's family cabin. The circumstances surrounding the death were a bit blurry but essentially came down to Fritz having a gun he did not know how to use, a weapon given to him to hold by Austin. There were rumors that the incident was related to the video, yet the videotape had not come out at trial ten years before. It had gone missing. I didn't understand why there wasn't an effort by the police to unearth this tape, given that it was seen or discussed by so many people at the time.

To track down the blackmailer, Kinsey delves into the old crime. She interviews all of the characters involved except Austin, who had gone missing too, all those years ago, and is still wanted.

While Kinsey investigates, we get occasional chapters going back to the origins of the case. We meet Iris in high school, where she steals a test and sets off the entire chain of events.

As usual, then, the investigation Kinsey is hired to do becomes something else and leads to new complexities. Nothing is ever straightforward. But ultimately all is revealed.

---
Reserved for paperbackswap.
---
mailed to paperbackswap member.
---