Rattle his Bones
Registered by

kirjakko

of
Helsinki
,
Uusimaa / Nyland
Finland on 12/3/2017
3 journalers for this copy...

Journal Entry
1
by

kirjakko

from
Helsinki
,
Uusimaa / Nyland
Finland on Sunday, December 03, 2017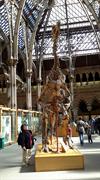 Can't remember where I picked this up, probably from the exchange shelf of the Library of Sipoo, which often has good books in it. Or had, the library has been moved to a temporary building while the original place is under renovation and currently they do not have an exchange shelf (except in the Library of Söderkulla).
Noticed that somebody I know has this on her wishlist. She has been seen and photographed in the Natural History Museum in Oxford. Will try to read this before Christmas.
---

---


Not forgetting these precious stones. They are urine stones from the bladder of one single dog! Actually very beautiful, but the smell is very strong in them, they could not be used as jewellery.
---


Hyde Park and other familiar places were mentioned, like Tavistock in Dartmoor. That's where we used to shop when spending two summers on a farm in Dartmoor National Park in 1981-82. Nice little country town.
---


The curators' and professors' obsession to their chosen subject is well portraited. Same all over, as this picture tells. There a Finnish insect collector and explorer R.J.Sahlberg (born in 1811) and his wife Mimmi are about to embark to their honeymoon.
---


Finished. This was much better than the first one I read.
Pic: The Natural History Museum of Helsinki has had a face-lift and is beautifully done. Many of the exhibits are new, but this two-headed calf has been there as long as I remember. At the time we were there this August a mother was showing it to her kids: "Look, identical twins!"
---


Merry Christmas!
---

Thank you very much for this book, Kirjakko! I have been down with a flu for three days. I got rs-virus from grandchildren. I could not come to sit by computer and I was not even able read. And that is a pity!
Interesting pictures you have found! Especially one of them pleased me very much.
---


So, this was not set in the Natural History Museum in Oxford... I still liked the story. Oxford Museum is smaller than the one in the book, but I would have liked to stay all day there. Alas! We only had an hour or two available for that visit. I had no time to read the names of all these skeletons.
This is my book #24 in the
Reduce Mount TBR 2018
-challence by Dove-i-libri.
---

I'll take the book to the meet-up at Roasberg.
Happy reading!
Book #40 in the
2018 Keep Them Moving
-challence by Booklady331
---

Journal Entry
11
by
sannuli
at
Joensuu, Pohjois-Karjala / Norra Karelen Finland on Monday, April 02, 2018
Thanks! :)
---